Online Dental Education Library
Ones healthy smile depends on simple dental care habits, such as brushing and flossing. Please follow these steps to protect you and your loved ones oral health.
Brushing for proper oral health
Consider these brushing basics from the American Dental Association:
Brush your teeth at least twice a day. When you brush, don't rush. Take enough time to do a thorough job.
Use the proper equipment. Use a fluoride toothpaste and a soft-bristled toothbrush that fits your mouth comfortably. Consider using an electric or battery-operated toothbrush, especially if you have arthritis or other problems that make it difficult to brush effectively.
Practice good technique. Hold your toothbrush at a slight angle against your teeth and brush with short back-and-forth motions. Remember to brush the inside and chewing surfaces of your teeth, as well as your tongue. Avoid vigorous or harsh scrubbing, which can irritate your gums.
Keep your equipment clean. Always rinse your toothbrush with water after brushing. Store your toothbrush in an upright position, if possible, and allow it to air dry until using it again. Don't routinely cover toothbrushes or store them in closed containers, which can encourage the growth of bacteria.
Know when to replace your toothbrush. Invest in a new toothbrush or a replacement head for your electric or battery-operated toothbrush every three to four months — or sooner if the bristles become frayed.
Flossing for proper oral health
You can't reach the tight spaces between your teeth or under your gumline with a toothbrush. That's why daily flossing is important. When you floss:
Don't skimp. Break off about 18 inches (46 centimeters) of dental floss. Wind most of the floss around the middle finger on one hand, and the rest around the middle finger on the other hand — leaving about 1 inch (3 centimeters) to floss your first tooth.
Take it one tooth at a time. Use your thumbs and forefingers to gently pull the floss from the gumline to the top of the tooth to scrape off plaque. Rub the floss against all sides of the tooth. Unwind to fresh floss as you progress to the next tooth.
Keep it up. If you have trouble getting floss through your teeth, try the waxed variety. If it's hard to manipulate the floss, use a floss holder or an interdental cleaner — such as a dental pick or stick designed to clean between the teeth.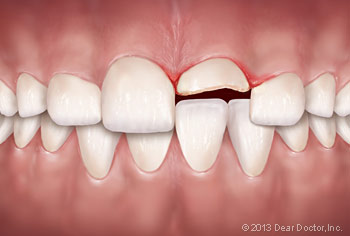 When you were a youngster, did you ever get a black eye, chip a tooth or bruise your cheek? If so, you may have experienced a case (let's hope, a mild one!) of facial trauma. In many situations, however, facial trauma can be severe. Among its major causes are auto accidents, sports injuries, work-related mishaps, falls, and acts of violence. When serious facial injury occurs, it's important that you receive immediate and comprehensive care. That's why oral and maxillofacial surgeons are on call at most emergency and trauma centers.
Facial trauma in general involves injuries to the soft- or hard-tissue structures of the face, mouth or jaws — including the teeth, the bones of the jaws and face, and the tissue of the skin and gums. It can also involve treatment of particular specialized regions, such as the area around the eyes, the salivary glands or facial nerves. Because facial injuries can affect not only a person's ability to carry on basic life functions (eating, vision, etc) but also his or her appearance, there is often a strong emotional component to treatment as well as a physical one. But after completing an extensive training program, oral and maxillofacial surgeons are capable of handling the full scope of facial injuries.
Treatments for Facial Injury
Some facial traumas are relatively minor. A common one occurs when a tooth is loosened or knocked out (avulsed). Many times, if treated immediately, the tooth can be successfully re-implanted in the jaw. If that isn't possible, placing a dental implant is often the most effective way to replace a missing tooth.
Another type of relatively common but more serious injury may involve a fracture of the facial bones, including the cheekbones, upper or lower jawbones, or the eye sockets. In principle, its treatment is essentially the same as that used for a broken arm: place the bones back in their proper position, and immobilize them. But since it isn't possible to put a cast on the face, different immobilization techniques are used. One method involves wiring the upper and lower jaws together to let them heal in the correct alignment; alternatively, plates and screws may be used to permanently reattach the bones.
Severe facial trauma is often a critical condition, since over 60% of these patients also have serious injuries in other parts of the body. In fact, many of the standard techniques used in trauma centers were developed by oral and maxillofacial surgeons during the wars in Korea, Vietnam, and the Middle East. Restoring breathing, controlling bleeding and checking for neurological damage are top priorities. After that, as much of the reconstructive surgery as possible is accomplished in one operation.
Preventing Facial Trauma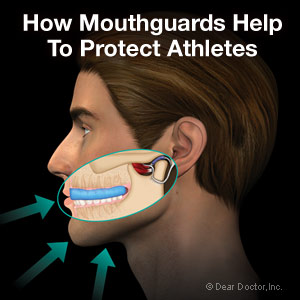 What's the best treatment for facial trauma? Prevention. Always wearing seat belts, using proper helmets and protective gear when playing sports, and staying out of dangerous situations (like driving while impaired, tired or distracted) can go a long way toward keeping you safe. If you're engaging in athletic activities that carry any risk of facial injury, wear a properly fitted mouthguard — this small piece of protective equipment can save you a lot of potential harm.
But if you (or someone you care for) require a trip to the emergency room for a facial injury, be sure to ask for a consultation with an oral and maxillofacial surgeon, so that you get the best care and the most favorable outcome.
Related Articles