Online Dental Education Library
Ones healthy smile depends on simple dental care habits, such as brushing and flossing. Please follow these steps to protect you and your loved ones oral health.
Brushing for proper oral health
Consider these brushing basics from the American Dental Association:
Brush your teeth at least twice a day. When you brush, don't rush. Take enough time to do a thorough job.
Use the proper equipment. Use a fluoride toothpaste and a soft-bristled toothbrush that fits your mouth comfortably. Consider using an electric or battery-operated toothbrush, especially if you have arthritis or other problems that make it difficult to brush effectively.
Practice good technique. Hold your toothbrush at a slight angle against your teeth and brush with short back-and-forth motions. Remember to brush the inside and chewing surfaces of your teeth, as well as your tongue. Avoid vigorous or harsh scrubbing, which can irritate your gums.
Keep your equipment clean. Always rinse your toothbrush with water after brushing. Store your toothbrush in an upright position, if possible, and allow it to air dry until using it again. Don't routinely cover toothbrushes or store them in closed containers, which can encourage the growth of bacteria.
Know when to replace your toothbrush. Invest in a new toothbrush or a replacement head for your electric or battery-operated toothbrush every three to four months — or sooner if the bristles become frayed.
Flossing for proper oral health
You can't reach the tight spaces between your teeth or under your gumline with a toothbrush. That's why daily flossing is important. When you floss:
Don't skimp. Break off about 18 inches (46 centimeters) of dental floss. Wind most of the floss around the middle finger on one hand, and the rest around the middle finger on the other hand — leaving about 1 inch (3 centimeters) to floss your first tooth.
Take it one tooth at a time. Use your thumbs and forefingers to gently pull the floss from the gumline to the top of the tooth to scrape off plaque. Rub the floss against all sides of the tooth. Unwind to fresh floss as you progress to the next tooth.
Keep it up. If you have trouble getting floss through your teeth, try the waxed variety. If it's hard to manipulate the floss, use a floss holder or an interdental cleaner — such as a dental pick or stick designed to clean between the teeth.
Cavities are little holes in teeth that can eventually cause big problems. They form when tooth-eroding acid attacks a tooth's protective outer covering (enamel). This acid mainly comes from two sources: your diet, and certain oral bacteria that thrive in the absence of effective oral hygiene. If cavities are not treated promptly, decay-causing bacteria can get further into the tooth, leading eventually to root-canal problems and even tooth loss. The good news is that cavities are completely preventable — meaning it is truly possible to keep all of your natural teeth for life! Here are our top three tips to keep decay away:
Brush & Floss Every Day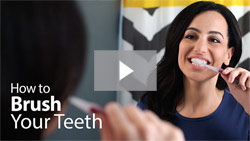 Cavity prevention starts with a good oral hygiene routine. This will remove dental plaque — a sticky film that harbors food particles and harmful bacteria. Flossing is particularly important because a toothbrush can't reach in between the teeth the way floss can. Make sure to floss both sides of every tooth, including the back molars, at least once each day. Brush your teeth at least twice each day, using a toothpaste that contains fluoride — a mineral that can become part of your tooth enamel and actually repair tiny cavities that are starting to form.
Pay Attention to Your Diet
Certain foods and beverages are no friends to your teeth, and soda tops the list. Soda, sports drinks, and so-called "energy drinks" are all acidic — even the sugar-free varieties. The acids they contain attack tooth enamel and make your teeth more prone to decay. Fruit juices can also be very acidic. Drinking water is much better for your dental health, not only because it has a completely neutral pH (is non-acidic), but also because it helps replenish your saliva — which has natural cavity-fighting properties. Sugary and starchy foods (cookies, candy, donuts, and chips) are also a problem — especially when they are not promptly cleaned from your mouth. They nourish the oral bacteria that cause cavities and raise the acidity level in your mouth.
See Your Dentist Regularly
Routine professional cleanings and exams are a great way to maintain excellent oral health. Your dental hygienist can clean areas of your mouth that you can't reach with your toothbrush or even with floss. We can check for early signs of tooth decay and take prompt action. What's more, we can recommend specific preventive treatments if you are particularly prone to cavities. These include in-office fluoride treatments and dental sealants, both of which are quick, easy and effective procedures. Special mouthrinses might also be recommended. Working together, we can make sure your oral hygiene routine is all it should be and that decay is kept at bay.
Related Articles