Online Dental Education Library
Ones healthy smile depends on simple dental care habits, such as brushing and flossing. Please follow these steps to protect you and your loved ones oral health.
Brushing for proper oral health
Consider these brushing basics from the American Dental Association:
Brush your teeth at least twice a day. When you brush, don't rush. Take enough time to do a thorough job.
Use the proper equipment. Use a fluoride toothpaste and a soft-bristled toothbrush that fits your mouth comfortably. Consider using an electric or battery-operated toothbrush, especially if you have arthritis or other problems that make it difficult to brush effectively.
Practice good technique. Hold your toothbrush at a slight angle against your teeth and brush with short back-and-forth motions. Remember to brush the inside and chewing surfaces of your teeth, as well as your tongue. Avoid vigorous or harsh scrubbing, which can irritate your gums.
Keep your equipment clean. Always rinse your toothbrush with water after brushing. Store your toothbrush in an upright position, if possible, and allow it to air dry until using it again. Don't routinely cover toothbrushes or store them in closed containers, which can encourage the growth of bacteria.
Know when to replace your toothbrush. Invest in a new toothbrush or a replacement head for your electric or battery-operated toothbrush every three to four months — or sooner if the bristles become frayed.
Flossing for proper oral health
You can't reach the tight spaces between your teeth or under your gumline with a toothbrush. That's why daily flossing is important. When you floss:
Don't skimp. Break off about 18 inches (46 centimeters) of dental floss. Wind most of the floss around the middle finger on one hand, and the rest around the middle finger on the other hand — leaving about 1 inch (3 centimeters) to floss your first tooth.
Take it one tooth at a time. Use your thumbs and forefingers to gently pull the floss from the gumline to the top of the tooth to scrape off plaque. Rub the floss against all sides of the tooth. Unwind to fresh floss as you progress to the next tooth.
Keep it up. If you have trouble getting floss through your teeth, try the waxed variety. If it's hard to manipulate the floss, use a floss holder or an interdental cleaner — such as a dental pick or stick designed to clean between the teeth.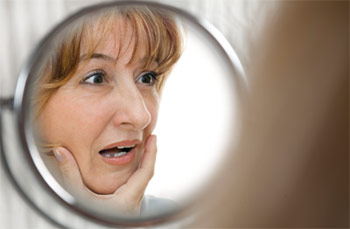 If you are missing one or more of your adult teeth, you're not alone — an estimated 178 million Americans have the same condition. Many try to get along without all of their teeth, and suffer from some of the familiar problems that go with the territory: smiles that don't look as appealing as they once did, problems eating certain foods, and awkwardness or embarrassment in social situations.
Yet there are other problems associated with tooth loss that are less obvious, but could have more of an impact on your health. These include nutritional difficulties, oral health issues, and bone loss.
Nutritional Difficulties
It is well established that eating plenty of fruits and vegetables and avoiding highly processed foods are essential parts of good nutrition. But many foods become difficult to chew if you have missing teeth — and those "challenging" foods are often the same ones that offer the greatest nutritional value. Softer foods are easier to eat, but they are often highly processed, and offer little nutritional value. Along with the possibility of malnourishment, a poor diet can lead to a compromised immune system and a decline in overall health.
Oral Health Issues
If you have only one or two missing teeth, you may not feel an urgent need to replace them now. Yet the problems that stem from missing teeth don't get better — and in time, they can get much worse. Teeth aren't fixed solidly in the jaw; instead, when even one tooth is missing, the remaining teeth tend to "drift" into new positions. This can cause a cascade of oral health problems, including unstable tooth positions, excessive tooth wear, bite problems, a greater chance of developing tooth decay and periodontal disease — and the loss of even more teeth.
Bone Loss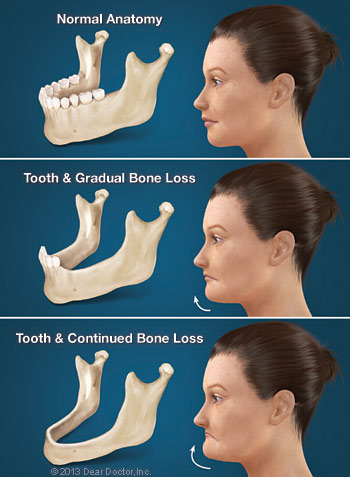 You can't see the bone inside your jaw — but the consequences of bone loss are very real. Bone tissue needs stimulation to maintain its volume and density. When teeth are lost, the jaw bone that once supported them loses stimulation and begins to deteriorate. It can lose one-quarter of its width in just one year, and even more as time passes. As the jaw becomes smaller, facial height (the distance from nose to chin) decreases, and facial features lose support. The chin rotates forward, the corners of the mouth turn downward (as if frowning), and the cheeks can appear hollow. Loss of bone in the jaw can give you the appearance of being many years older than you actually are.
The consequences of tooth loss are very real, even if they are less visible than a gap in your smile. That's why it is so important not to put off the replacement of missing teeth.
Related Articles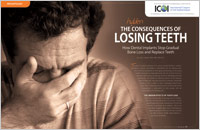 The Hidden Consequences of Losing Teeth For those missing even one tooth, an unsightly gap is actually the least significant problem. What's of far greater concern is the bone loss that inevitably follows tooth loss. Dental implants can preserve bone, improve function and enhance psychological well-being. Learn how implants serve both as anchors to support replacement teeth and preserve bone... Read Article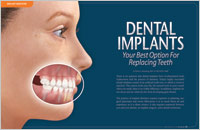 Dental Implants – Your Best Option For Replacing Teeth Dental implants have many advantages over older methods of tooth replacement like bridges and dentures — from the way they function and feel to the way they look and last. Vigorous research has documented and confirmed that in the right situations, dental implant success rates are over 95%. It is no exaggeration to say that they have revolutionized dentistry. They may even change your life... Read Article