Online Dental Education Library
Ones healthy smile depends on simple dental care habits, such as brushing and flossing. Please follow these steps to protect you and your loved ones oral health.
Brushing for proper oral health
Consider these brushing basics from the American Dental Association:
Brush your teeth at least twice a day. When you brush, don't rush. Take enough time to do a thorough job.
Use the proper equipment. Use a fluoride toothpaste and a soft-bristled toothbrush that fits your mouth comfortably. Consider using an electric or battery-operated toothbrush, especially if you have arthritis or other problems that make it difficult to brush effectively.
Practice good technique. Hold your toothbrush at a slight angle against your teeth and brush with short back-and-forth motions. Remember to brush the inside and chewing surfaces of your teeth, as well as your tongue. Avoid vigorous or harsh scrubbing, which can irritate your gums.
Keep your equipment clean. Always rinse your toothbrush with water after brushing. Store your toothbrush in an upright position, if possible, and allow it to air dry until using it again. Don't routinely cover toothbrushes or store them in closed containers, which can encourage the growth of bacteria.
Know when to replace your toothbrush. Invest in a new toothbrush or a replacement head for your electric or battery-operated toothbrush every three to four months — or sooner if the bristles become frayed.
Flossing for proper oral health
You can't reach the tight spaces between your teeth or under your gumline with a toothbrush. That's why daily flossing is important. When you floss:
Don't skimp. Break off about 18 inches (46 centimeters) of dental floss. Wind most of the floss around the middle finger on one hand, and the rest around the middle finger on the other hand — leaving about 1 inch (3 centimeters) to floss your first tooth.
Take it one tooth at a time. Use your thumbs and forefingers to gently pull the floss from the gumline to the top of the tooth to scrape off plaque. Rub the floss against all sides of the tooth. Unwind to fresh floss as you progress to the next tooth.
Keep it up. If you have trouble getting floss through your teeth, try the waxed variety. If it's hard to manipulate the floss, use a floss holder or an interdental cleaner — such as a dental pick or stick designed to clean between the teeth.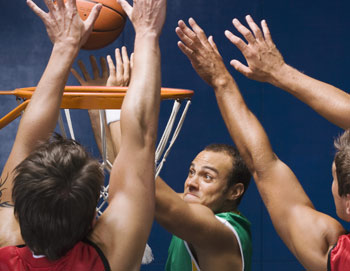 Traumatic dental injuries can occur in people of all ages and activity levels. The cause might be a car accident, a fall down the stairs, or an elbow to the face during a basketball game. As with most types of dental treatment, the primary goal when treating a traumatic dental injury is to save teeth at risk of being lost, and restore them to full function and normal appearance. In many cases, the difference between saving and losing a tooth depends on taking the proper action in the immediate aftermath of an injury. Here are some guidelines on how to prevent sports-related dental injuries and what to do after a dental injury occurs.
Sports-Related Dental Injuries
Americans of all ages love playing sports — so much so that participation in high school sports has been increasing for 24 consecutive years, according to one survey. Yet to gain the very real benefits that sports offer, it's necessary to accept — and prepare for — the risk of injury.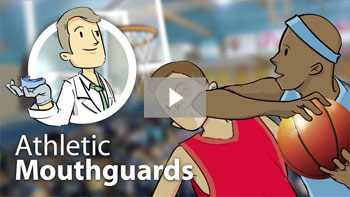 Dental trauma accounts for a significant portion of all sports injuries, yet so many of these injuries are preventable. How? With a high-quality mouthguard. When you consider that the lifetime cost of replacing a permanent tooth has been estimated to exceed $20,000, a good mouthguard is one of the best investments you can make in sports equipment: It has been shown to reduce the risk of sports-related dental injury by 60 times.
The best kind of mouthguard is one that comes from your dentist's office. It's custom-made from a model of your own teeth, so it's strong, lightweight, and perfectly fitted. If you (or your child) are active in sports, ask about this indispensable piece of safety gear. And continue reading below to find out what to do in the case of specific types of dental injuries.
Chipped or Broken Teeth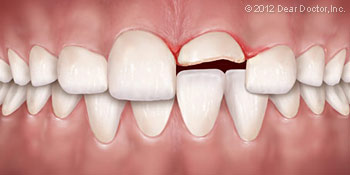 Chipped teeth are the most common dental injury, according to the American Association of Endodontists. If teeth have been chipped or fractured, or if they are loose or tender to the touch, make sure to see a dentist within 12 hours. Try to locate any pieces of the tooth that have come off, as it may be possible to reattach them to the crown with tooth-colored bonding material.
Knocked-Out Teeth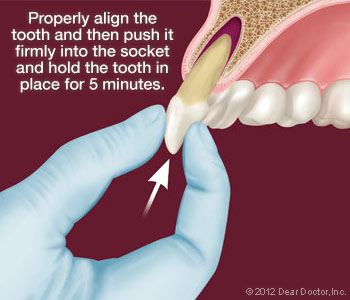 If a permanent tooth has been knocked out of its socket (avulsed), immediate attention is required. First, recover the tooth — and if it's dirty, gently clean it off with water. Try not to touch the root portion of the tooth. Next, if possible, place the tooth back into its socket (making sure it is in the proper orientation), and apply gentle, sustained pressure to the area for five minutes. You can use a wad of wet tissue or gauze to help grasp and hold the tooth in place. Get emergency dental treatment as soon as possible afterward, and be sure to check whether a tetanus shot or booster is needed.
If it isn't possible to replant the tooth, have the patient hold it between his teeth and cheek, or place it into a plastic bag with the patient's saliva, or into a cup of cold milk. Control bleeding from the tooth socket by applying pressure to the area (use gauze if possible), and get the patient and the tooth to an emergency treatment center as soon as possible. Primary (baby) teeth, however, don't usually need to be replanted.
Partially Displaced Teeth
If teeth are driven into or pushed partially out of the jaw, or if they are out of alignment, the patient should see a dentist or oral surgeon within six hours of the accident. A careful examination of the mouth (plus x-rays if needed) should reveal the extent of the damage, and indicate what restorative treatments are likely to be required.
Soft-Tissue Injuries
In addition to the teeth, dental injuries often involve damage to the gums, the tongue, and the inside of the mouth. When these soft-tissue injuries occur, it's best to take the following immediate actions, and then see a dentist as soon as possible: Wash and rinse the area with soap and water if possible, or remove debris and foreign material by hand. Bleeding can usually be controlled by applying direct, gentle pressure to gauze pads placed on the wound. If it can't be controlled after about 10 minutes, go to an emergency room.
Don't hesitate to call the dental office for more specific information about handling a traumatic dental injury.
Related Articles