Online Dental Education Library
Ones healthy smile depends on simple dental care habits, such as brushing and flossing. Please follow these steps to protect you and your loved ones oral health.
Brushing for proper oral health
Consider these brushing basics from the American Dental Association:
Brush your teeth at least twice a day. When you brush, don't rush. Take enough time to do a thorough job.
Use the proper equipment. Use a fluoride toothpaste and a soft-bristled toothbrush that fits your mouth comfortably. Consider using an electric or battery-operated toothbrush, especially if you have arthritis or other problems that make it difficult to brush effectively.
Practice good technique. Hold your toothbrush at a slight angle against your teeth and brush with short back-and-forth motions. Remember to brush the inside and chewing surfaces of your teeth, as well as your tongue. Avoid vigorous or harsh scrubbing, which can irritate your gums.
Keep your equipment clean. Always rinse your toothbrush with water after brushing. Store your toothbrush in an upright position, if possible, and allow it to air dry until using it again. Don't routinely cover toothbrushes or store them in closed containers, which can encourage the growth of bacteria.
Know when to replace your toothbrush. Invest in a new toothbrush or a replacement head for your electric or battery-operated toothbrush every three to four months — or sooner if the bristles become frayed.
Flossing for proper oral health
You can't reach the tight spaces between your teeth or under your gumline with a toothbrush. That's why daily flossing is important. When you floss:
Don't skimp. Break off about 18 inches (46 centimeters) of dental floss. Wind most of the floss around the middle finger on one hand, and the rest around the middle finger on the other hand — leaving about 1 inch (3 centimeters) to floss your first tooth.
Take it one tooth at a time. Use your thumbs and forefingers to gently pull the floss from the gumline to the top of the tooth to scrape off plaque. Rub the floss against all sides of the tooth. Unwind to fresh floss as you progress to the next tooth.
Keep it up. If you have trouble getting floss through your teeth, try the waxed variety. If it's hard to manipulate the floss, use a floss holder or an interdental cleaner — such as a dental pick or stick designed to clean between the teeth.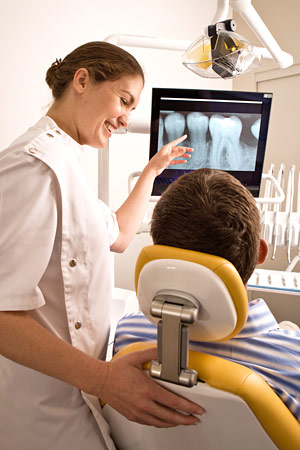 It's almost impossible to imagine the practice of dentistry without x-ray technology. Radiographs (x-ray pictures) allow dentists to diagnose and treat problems not yet visible to the naked eye, including early tooth decay, gum disease, abscesses and abnormal growths. There is no question that since x-rays first became available a century ago, this diagnostic tool has prevented untold suffering and saved countless teeth. Now, state-of-the-art digital x-rays have made the technology even safer and more beneficial.
Digital x-ray technology uses a small electronic sensor placed in the mouth to capture an image, which can be called up instantly on a computer screen. When digital x-rays first became available about 20 years ago, they immediately offered a host of advantages over traditional x-ray films, which require chemical processing. Most importantly, they cut the amount of radiation exposure to the dental patient by as much as 90%. While faster x-ray films have been developed over the years that require less exposure, making that difference less dramatic, a digital x-ray still offers the lowest radiation dose possible.
Advantages of Digital X-Rays
Besides minimizing radiation exposure, digital x-rays offer numerous advantages to dentists and patients alike. These include:
No chemical processing & no waiting. Because there is no film to process with digital x-rays, there is no waiting for pictures to develop — and no toxic chemicals to dispose of. Your dentist can immediately show you the pictures on a computer screen for easy viewing.
A clearer picture. It's possible to get more information from digital x-rays because they are sharper and can be enhanced in a number of ways. The contrast can be increased or decreased, and areas of concern can be magnified. It's even possible to compare them on-screen to your previous x-rays, making even the minutest changes to your tooth structure easier to detect.
Easy sharing and storage. Digital x-rays provide a better visual aide for you, the patient, to understand your diagnosis and treatment options. They can be e-mailed to different locations; they are also far less likely to be misplaced.
X-Rays and Your Safety
While digital technology has minimized the health risks of x-rays, it has not entirely eliminated it. X-rays are a type of radiation used to penetrate the tissues of the body to create an image. In doing so, there is always a slight possibility of causing changes at the cellular level that might lead to future disease. Of course, there are sources of radiation present in the daily environment — the sun, for example — that can also cause disease. It's important to note that the chance of this happening is thought to be cumulative and not based on a single exposure. Still, x-rays are not considered risk-free regardless of how technology reduces your exposure. That's why dentists will only use them when the benefit of obtaining better diagnostic information outweighs the procedure's small risk. This is particularly true of computed tomography or CT scans, which can raise the level of exposure, yet yield a tremendous amount of information per scan. No matter which technology is being used, each case is considered individually, and your safety is always paramount. If you have questions about why an x-ray is being recommended for you, please feel free to ask.
Related Article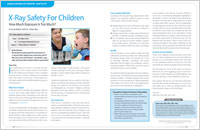 X-Ray Safety For Children Nearly every diagnostic testing procedure carries some risk, so it's always important for you and your healthcare provider to weigh the benefits against the risks. This is particularly true when it comes to children, who are more sensitive to x-rays than adults... Read Article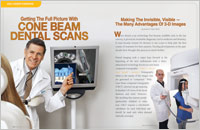 Getting The Full Picture With Cone Beam Dental Scans Dental imaging took a major leap forward at the beginning of the new millennium with a three-dimensional technology known as cone beam computed tomography (CBCT). The name comes from the cone-shaped beam of x-rays the CBCT machine projects as it rotates around a person's head, taking multiple images that are compiled into a 3-D picture by a computer. Find out what CBCT can reveal and how it helps a doctor to make a highly informed diagnosis and choice of treatment... Read Article