Online Dental Education Library
Ones healthy smile depends on simple dental care habits, such as brushing and flossing. Please follow these steps to protect you and your loved ones oral health.
Brushing for proper oral health
Consider these brushing basics from the American Dental Association:
Brush your teeth at least twice a day. When you brush, don't rush. Take enough time to do a thorough job.
Use the proper equipment. Use a fluoride toothpaste and a soft-bristled toothbrush that fits your mouth comfortably. Consider using an electric or battery-operated toothbrush, especially if you have arthritis or other problems that make it difficult to brush effectively.
Practice good technique. Hold your toothbrush at a slight angle against your teeth and brush with short back-and-forth motions. Remember to brush the inside and chewing surfaces of your teeth, as well as your tongue. Avoid vigorous or harsh scrubbing, which can irritate your gums.
Keep your equipment clean. Always rinse your toothbrush with water after brushing. Store your toothbrush in an upright position, if possible, and allow it to air dry until using it again. Don't routinely cover toothbrushes or store them in closed containers, which can encourage the growth of bacteria.
Know when to replace your toothbrush. Invest in a new toothbrush or a replacement head for your electric or battery-operated toothbrush every three to four months — or sooner if the bristles become frayed.
Flossing for proper oral health
You can't reach the tight spaces between your teeth or under your gumline with a toothbrush. That's why daily flossing is important. When you floss:
Don't skimp. Break off about 18 inches (46 centimeters) of dental floss. Wind most of the floss around the middle finger on one hand, and the rest around the middle finger on the other hand — leaving about 1 inch (3 centimeters) to floss your first tooth.
Take it one tooth at a time. Use your thumbs and forefingers to gently pull the floss from the gumline to the top of the tooth to scrape off plaque. Rub the floss against all sides of the tooth. Unwind to fresh floss as you progress to the next tooth.
Keep it up. If you have trouble getting floss through your teeth, try the waxed variety. If it's hard to manipulate the floss, use a floss holder or an interdental cleaner — such as a dental pick or stick designed to clean between the teeth.
After a thorough, professional tooth cleaning, you know that your teeth look brighter and feel fresher. But tooth cleaning isn't just about appearances. It's the primary means of preventing and treating periodontal (gum) disease. Many studies have demonstrated a possible link between periodontal health and overall (systemic) health — which means regular tooth cleaning may benefit not just your mouth, but your whole body.
Why do teeth need special cleaning? Over time, dental plaque (a naturally occurring bacterial biofilm) and stains build up on tooth surfaces. Dental calculus (also called tartar), a harder deposit, can then form both above and below the gum line. A thorough dental cleaning removes these substances from the teeth, and helps keep disease-causing bacteria from proliferating.
Tooth cleaning is usually accomplished by the non-surgical technique of scaling, sometimes called "root debridement." It's typically a relatively painless procedure in which small dental instruments are used to physically remove deposits from the surfaces of teeth. At one time, scaling was performed entirely with manual tools. But in the last several decades, the ultrasonic scaler has changed all that.
What Is An Ultrasonic Scaler?
There are different types of ultrasonic scalers, but all of them work in a similar fashion: electromagnetic forces in the unit's hand-held "wand" cause its tiny tip to vibrate rapidly. These vibrations, which occur at a rate faster than the speed of sound, effectively blast away plaque, calculus and stains from the tooth surfaces.
A small stream of water and/or antibacterial mouthwash, which emerges near the tip of the scaler, is called lavage. Lavage is used to cool the ultrasonic scaler's tip and flush away debris from the area being treated. The vibrating tip causes some of the water to break into millions of tiny bubbles, an effect called cavitation. This ruptures the walls of bacterial cells and helps create an environment that's less hospitable to harmful bacteria.
Ultrasonic Scaling vs. Hand Scaling
Studies show that a thorough ultrasonic cleaning takes about one-third less time as compared to hand scaling — which means you need less time in the chair. Many patients prefer ultrasonics to other types of scaling, possibly because it requires the clinician to use less force than a hand scaler to get the same effect. In ultrasonic scaling, only the tip of the tool touches the tooth surface, and only for a short time.
It's also possible to remove deposits of plaque and tartar from under the gum line by using an extremely small tip on an ultrasonic unit, which can cause less discomfort and result in a deeper and better cleaning. Sometimes an ultrasonic scaler is used first, and then any stubborn areas are scaled by hand.
The Experience of Ultrasonic Scaling
Anyone who has a substantial buildup of tartar or is prone to gum disease can benefit from ultrasonic scaling. It can also help to remove stains from coffee and cigarettes, for example. Yet, for all its power, most people experience little or no discomfort during the procedure.
If you have very sensitive teeth, it may be possible to alleviate some discomfort by using slimmer tips on the scaler. Alternatively, a topical anesthetic may be applied, or conscious sedation can be administered. The power range, the flow of lavage water and the frequency of tip vibration may also be adjusted for increased comfort.
Special tips are also available to clean composite or porcelain tooth restorations, titanium implants, or areas of demineralization (enamel loss) on your teeth. If you have a cardiac pacemaker, be sure to alert all dental professionals/personnel before ultrasonic scaling treatment, so precautions can be taken.
Related Article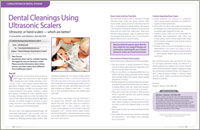 Dental Cleanings Using Ultrasonic Scalers Rapidly changing technology has revolutionized periodontal therapy with the integration of power scaling techniques resulting in improved clinical outcomes, patient comfort, and reduced time and physical demands on clinicians... Read Article