Online Dental Education Library
Ones healthy smile depends on simple dental care habits, such as brushing and flossing. Please follow these steps to protect you and your loved ones oral health.
Brushing for proper oral health
Consider these brushing basics from the American Dental Association:
Brush your teeth at least twice a day. When you brush, don't rush. Take enough time to do a thorough job.
Use the proper equipment. Use a fluoride toothpaste and a soft-bristled toothbrush that fits your mouth comfortably. Consider using an electric or battery-operated toothbrush, especially if you have arthritis or other problems that make it difficult to brush effectively.
Practice good technique. Hold your toothbrush at a slight angle against your teeth and brush with short back-and-forth motions. Remember to brush the inside and chewing surfaces of your teeth, as well as your tongue. Avoid vigorous or harsh scrubbing, which can irritate your gums.
Keep your equipment clean. Always rinse your toothbrush with water after brushing. Store your toothbrush in an upright position, if possible, and allow it to air dry until using it again. Don't routinely cover toothbrushes or store them in closed containers, which can encourage the growth of bacteria.
Know when to replace your toothbrush. Invest in a new toothbrush or a replacement head for your electric or battery-operated toothbrush every three to four months — or sooner if the bristles become frayed.
Flossing for proper oral health
You can't reach the tight spaces between your teeth or under your gumline with a toothbrush. That's why daily flossing is important. When you floss:
Don't skimp. Break off about 18 inches (46 centimeters) of dental floss. Wind most of the floss around the middle finger on one hand, and the rest around the middle finger on the other hand — leaving about 1 inch (3 centimeters) to floss your first tooth.
Take it one tooth at a time. Use your thumbs and forefingers to gently pull the floss from the gumline to the top of the tooth to scrape off plaque. Rub the floss against all sides of the tooth. Unwind to fresh floss as you progress to the next tooth.
Keep it up. If you have trouble getting floss through your teeth, try the waxed variety. If it's hard to manipulate the floss, use a floss holder or an interdental cleaner — such as a dental pick or stick designed to clean between the teeth.
There are many elements that make up an ideal smile; bright, healthy-looking teeth immediately come to mind. But the gum tissue that surrounds and supports those teeth also plays a big role in how appealing your smile will look.
There are various cosmetic issues involving gum (gingival) tissue. For example, your smile may look "gummy" — meaning you seem to display too much gum tissue when you smile, or your teeth appear too short. Sometimes it's the opposite problem — your teeth appear too long because your gum tissue has receded (pulled back), exposing tooth-root surfaces that were covered at one time. Or, you may have an uneven gum line, meaning gum tissue covers some of your teeth more than others. All of these cosmetic gum problems can be successfully treated with cosmetic procedures performed in the dental office.
Cosmetic Gum Problems
Excess Tissue. A gummy smile can be caused by excessive gum tissue covering more enamel surface of a tooth's crown (upper portion) than normal. If that is the case, a procedure known as "crown lengthening" can be performed, in which gum tissue (and sometimes a small amount of bone tissue) is removed to expose more tooth surface.
Receding Gums. Sometimes your gums can shrink down (recede), exposing a portion of your tooth roots. This causes a cosmetic problem because root surfaces, which have no enamel covering, tend to appear more yellow than the crowns of your teeth. Also, exposed roots can be more sensitive to cold or touch, and can be at greater risk of decay. There are various gum-grafting procedures that can cover exposed roots, all of which involve moving gingival (gum) tissue from one site in the mouth to another. For example, roots can be covered with tissue from the roof of your mouth, which is of the same type; or adjacent (nearby) tissue can be moved over to cover an exposed root. Sometimes laboratory-processed tissue from another donor can even be used. All of these options can be discussed with you in more detail.
Uneven Gum Line. If you have an uneven gum line where some teeth are covered by more tissue than others, it is often possible to recontour (reshape) the tissue for a very pleasing effect. This can be done conventionally with a surgical scalpel or with newer dental laser technology. The advantage of a laser is that it seals the tissue as it sculpts it, making the procedure more comfortable and requiring a shorter healing time.
What to Expect
All cosmetic gum surgery can be performed at the dental office — and it usually requires only a local anesthetic (numbing shot). In fact, for laser surgery you may need only a topical anesthetic applied in gel form. If you would like a deeper level of relaxation, you can have oral or possibly even an IV sedative; but if this is required, you will need a ride home. Laser surgery leaves no open wounds and causes minimal, if any, discomfort, though the anatomy of the area may preclude laser use. An examination is required to determine whether conventional or laser treatment is in your best interests.
Grafts may take longer to heal, particularly if tissue is taken from the roof of your mouth. If that's the case, you will have two sites that need to heal: the donor site from which the tissue was taken, and the recipient site where the tissue was attached. Both of these sites will require stitches, usually of the dissolving type. You will need to eat a softer diet and avoid chewing on that side of your mouth for a few days. Though full healing may take a few weeks, you will be able to resume your normal activities the very next day. Whichever kind of cosmetic gum surgery you may need, the procedures are routine and predictable — and they can do wonders for your smile!
Related Articles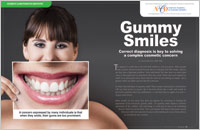 Gummy Smiles Sometimes a smile doesn't look as appealing as it could because the gums appear too prominent. If this describes your smile and it's something you want to change, chances are you can be helped by one of several available treatments. But first your dentist will need to determine exactly why your smile looks gummy to begin with. Find out the various causes and treatments... Read Article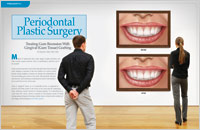 Periodontal Plastic Surgery Millions of Americans have some degree of gum recession — a loss of the tough, pink tissue that surrounds teeth. Receding gums can cause anything from minor tooth sensitivity to tooth loss in very severe cases. Fortunately, the field of periodontal plastic surgery has made enormous strides in devising techniques, including grafting, to deal with the problem of lost or damaged gum tissue... Read Article