Online Dental Education Library
Ones healthy smile depends on simple dental care habits, such as brushing and flossing. Please follow these steps to protect you and your loved ones oral health.
Brushing for proper oral health
Consider these brushing basics from the American Dental Association:
Brush your teeth at least twice a day. When you brush, don't rush. Take enough time to do a thorough job.
Use the proper equipment. Use a fluoride toothpaste and a soft-bristled toothbrush that fits your mouth comfortably. Consider using an electric or battery-operated toothbrush, especially if you have arthritis or other problems that make it difficult to brush effectively.
Practice good technique. Hold your toothbrush at a slight angle against your teeth and brush with short back-and-forth motions. Remember to brush the inside and chewing surfaces of your teeth, as well as your tongue. Avoid vigorous or harsh scrubbing, which can irritate your gums.
Keep your equipment clean. Always rinse your toothbrush with water after brushing. Store your toothbrush in an upright position, if possible, and allow it to air dry until using it again. Don't routinely cover toothbrushes or store them in closed containers, which can encourage the growth of bacteria.
Know when to replace your toothbrush. Invest in a new toothbrush or a replacement head for your electric or battery-operated toothbrush every three to four months — or sooner if the bristles become frayed.
Flossing for proper oral health
You can't reach the tight spaces between your teeth or under your gumline with a toothbrush. That's why daily flossing is important. When you floss:
Don't skimp. Break off about 18 inches (46 centimeters) of dental floss. Wind most of the floss around the middle finger on one hand, and the rest around the middle finger on the other hand — leaving about 1 inch (3 centimeters) to floss your first tooth.
Take it one tooth at a time. Use your thumbs and forefingers to gently pull the floss from the gumline to the top of the tooth to scrape off plaque. Rub the floss against all sides of the tooth. Unwind to fresh floss as you progress to the next tooth.
Keep it up. If you have trouble getting floss through your teeth, try the waxed variety. If it's hard to manipulate the floss, use a floss holder or an interdental cleaner — such as a dental pick or stick designed to clean between the teeth.
If you have lost an entire arch of teeth (top and/or bottom), or are soon to have your remaining teeth removed because they are too unhealthy to save, you may be able to replace them with fixed dentures supported by dental implants. Doctors and patients alike prefer fixed over removable dentures because they:
Look, feel and function just like natural teeth
Don't slip when you eat or talk
Prevent bone loss in the jaw
Last a lifetime
How It Works
Dental implants serve the same purpose as the roots of natural teeth: anchoring the replacement teeth to your jawbone. Just like natural tooth roots, they lie under the gum line and therefore are not visible in the mouth. Only the lifelike prosthetic teeth attached to them (the fixed denture) can be seen by you or anyone else. Because dental implants are made of titanium, a metal that has the unique ability to fuse to living bone, they are extremely stable and reliable. How many implants are needed? The number varies because each individual has unique conditions: Depending on the volume and density of the bone in your jaw, you will need as few as four implants or as many as six for your new teeth to function as well as a set of healthy, natural teeth.
What to Expect
The surgery to place dental implants that support a fixed denture is a simple, routine procedure carried out in an office setting, under local anesthesia in most cases. (If you need to have failing teeth removed, that will be done first, often the same day your implants are placed). After numbing the area, the appropriate number of implants will be placed in your jaw at precisely planned angles and positions to maximize support and avoid anatomical structures such as nerves and sinuses. Depending on how many implants are needed, the surgery can take anywhere from one to three hours. Most people who have dental implants placed find that any post-operative discomfort can be managed with over-the-counter anti-inflammatory medication such as ibuprofen or acetaminophen. Some don't even need to take that.
What happens immediately after surgery will depend on what's best to promote healing in your individual situation. Sometimes a set of temporary teeth can be attached immediately, so that you can leave the office with new teeth. A few months later, your permanent replacement teeth with be installed. In other cases, the implants will be left to heal for several months before any teeth are attached. Sometimes that is the best way to insure that the implants remain undisturbed as they go through the process of fusing to your jawbone, which is known as osseointegration.
In either case, you will need to go easy on your newly placed implants during the crucial healing phase following surgery. You will be advised to eat a softer diet and avoid hard, chewy foods until the process of osseointegration is complete — about three months. While this may seem like a long time, keep in mind that people who wear removable dentures often avoid these foods permanently. The good news is that once your implants have fused to your jawbone and your new permanent teeth are attached, you will be able to eat anything you want. In fact, you are likely to forget you even have dental implants!
Related Articles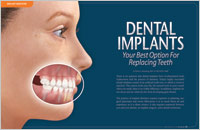 Dental Implants – Your Best Option For Replacing Teeth Dental implants have many advantages over older methods of tooth replacement like bridges and dentures — from the way they function and feel to the way they look and last. Vigorous research has documented and confirmed that in the right situations, dental implant success rates are over 95%. It is no exaggeration to say that they have revolutionized dentistry. They may even change your life... Read Article