Online Dental Education Library
Ones healthy smile depends on simple dental care habits, such as brushing and flossing. Please follow these steps to protect you and your loved ones oral health.
Brushing for proper oral health
Consider these brushing basics from the American Dental Association:
Brush your teeth at least twice a day. When you brush, don't rush. Take enough time to do a thorough job.
Use the proper equipment. Use a fluoride toothpaste and a soft-bristled toothbrush that fits your mouth comfortably. Consider using an electric or battery-operated toothbrush, especially if you have arthritis or other problems that make it difficult to brush effectively.
Practice good technique. Hold your toothbrush at a slight angle against your teeth and brush with short back-and-forth motions. Remember to brush the inside and chewing surfaces of your teeth, as well as your tongue. Avoid vigorous or harsh scrubbing, which can irritate your gums.
Keep your equipment clean. Always rinse your toothbrush with water after brushing. Store your toothbrush in an upright position, if possible, and allow it to air dry until using it again. Don't routinely cover toothbrushes or store them in closed containers, which can encourage the growth of bacteria.
Know when to replace your toothbrush. Invest in a new toothbrush or a replacement head for your electric or battery-operated toothbrush every three to four months — or sooner if the bristles become frayed.
Flossing for proper oral health
You can't reach the tight spaces between your teeth or under your gumline with a toothbrush. That's why daily flossing is important. When you floss:
Don't skimp. Break off about 18 inches (46 centimeters) of dental floss. Wind most of the floss around the middle finger on one hand, and the rest around the middle finger on the other hand — leaving about 1 inch (3 centimeters) to floss your first tooth.
Take it one tooth at a time. Use your thumbs and forefingers to gently pull the floss from the gumline to the top of the tooth to scrape off plaque. Rub the floss against all sides of the tooth. Unwind to fresh floss as you progress to the next tooth.
Keep it up. If you have trouble getting floss through your teeth, try the waxed variety. If it's hard to manipulate the floss, use a floss holder or an interdental cleaner — such as a dental pick or stick designed to clean between the teeth.
The practice of dentistry encompasses an amazing array of services and procedures, all with a common goal: to help you to preserve your natural teeth as long as possible, ensure your oral health, and keep you looking and feeling great throughout life.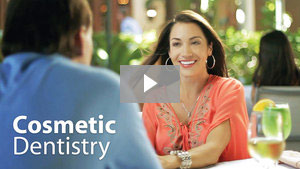 There's so much that can be done these days to improve the appearance of a person's smile — at any age. From powerful, professional whitening treatments to amazingly realistic porcelain veneers to state-of-the-art dental implants, there's a wide range of exciting possibilities.
The first step in any smile makeover is a thorough dental examination to make sure that your cosmetic problems really are just that, and not a sign of underlying dental disease. Once your health has been established, your smile can be cosmetically enhanced in a variety of ways.
Cosmetic & General Dentistry Procedures
Modern dentistry offers a wide range of services to make sure your teeth stay healthy, function well and look great. These procedures include:
Cleanings & Oral Exams, to keep your teeth and gums healthy, and catch early signs of dental disease
Cosmetic Bonding, to repair small chips or cracks
Crowns & Bridgework, to replace large amounts of lost tooth structure and/or missing teeth
Dental Implants, for the longest-lasting tooth replacement available today
Extractions, to remove unhealthy teeth that cannot be saved
Fillings, to restore decayed teeth
Inlays & Onlays, to fill teeth with larger cavities
Invisalign Clear Aligners, for highly discreet orthodontic treatment
Oral Cancer Screenings, to detect a dangerous disease that can be cured if caught early
Orthodontic Treatment, to move teeth into the right position
Porcelain Veneers, for repairing larger chips and cracks, and reshaping teeth
Removable Dentures, to help you smile again
Root Canal Treatment, to rescue diseased teeth
Sealants, to help prevent cavities
Teeth Whitening, to brighten a faded or discolored smile
TMD Treatment, for pain in the jaw area that can interfere with biting and chewing
Tooth-Colored Fillings, for a completely natural, healthy look
Tooth Decay Prevention, so you keep your natural teeth as long as possible
When to Visit the Dentist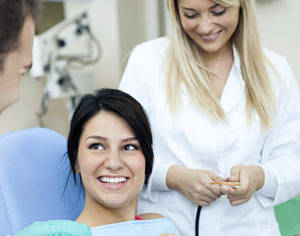 Many people only go to the dentist when something is wrong. That is truly a shame, because they are missing out on so many preventive services that can save discomfort — and expense — down the road. Regular dental visits are essential to make sure oral health problems — from tooth decay to oral cancer — are detected and treated in a timely manner. Some individuals may need to see the dentist more often than others to stay on top of problems like plaque buildup and gum disease, but everyone should go at least once per year.
Your regular dental visits will include a thorough oral exam to check the health of your teeth and gums; and oral cancer screening to spot any suspicious signs early; and a professional cleaning to remove stubborn deposits and make your teeth look and feel great. So don't miss out on the many benefits dentistry offers you and your family!
Your Smile Makeover
The most important job you have as a member of your own smile makeover team is to communicate exactly what you don't like about your smile and how you'd like it to be different. Before the first consultation, give some thought to the following questions:
What do you like or dislike about the color, size, shape and spacing of your teeth?
Are you pleased with how much your teeth show, both when you smile and when your lips are relaxed?
Do you want teeth that are perfectly aligned and a bright "Hollywood White," or would you prefer a more natural look with slight color, shape and shade variations?
Would you like more or less of your gums to show when you smile?
It is extremely helpful for you to bring in pictures you have collected — of smiles you like, smiles you don't like, and/or photos of the way your own smile used to look, if that's the result you're aiming for. Now is the time to get started on creating a smile that will make you feel as good as you look!
Related Articles