Online Dental Education Library
Ones healthy smile depends on simple dental care habits, such as brushing and flossing. Please follow these steps to protect you and your loved ones oral health.
Brushing for proper oral health
Consider these brushing basics from the American Dental Association:
Brush your teeth at least twice a day. When you brush, don't rush. Take enough time to do a thorough job.
Use the proper equipment. Use a fluoride toothpaste and a soft-bristled toothbrush that fits your mouth comfortably. Consider using an electric or battery-operated toothbrush, especially if you have arthritis or other problems that make it difficult to brush effectively.
Practice good technique. Hold your toothbrush at a slight angle against your teeth and brush with short back-and-forth motions. Remember to brush the inside and chewing surfaces of your teeth, as well as your tongue. Avoid vigorous or harsh scrubbing, which can irritate your gums.
Keep your equipment clean. Always rinse your toothbrush with water after brushing. Store your toothbrush in an upright position, if possible, and allow it to air dry until using it again. Don't routinely cover toothbrushes or store them in closed containers, which can encourage the growth of bacteria.
Know when to replace your toothbrush. Invest in a new toothbrush or a replacement head for your electric or battery-operated toothbrush every three to four months — or sooner if the bristles become frayed.
Flossing for proper oral health
You can't reach the tight spaces between your teeth or under your gumline with a toothbrush. That's why daily flossing is important. When you floss:
Don't skimp. Break off about 18 inches (46 centimeters) of dental floss. Wind most of the floss around the middle finger on one hand, and the rest around the middle finger on the other hand — leaving about 1 inch (3 centimeters) to floss your first tooth.
Take it one tooth at a time. Use your thumbs and forefingers to gently pull the floss from the gumline to the top of the tooth to scrape off plaque. Rub the floss against all sides of the tooth. Unwind to fresh floss as you progress to the next tooth.
Keep it up. If you have trouble getting floss through your teeth, try the waxed variety. If it's hard to manipulate the floss, use a floss holder or an interdental cleaner — such as a dental pick or stick designed to clean between the teeth.
In most people, the third set of molars, generally called "wisdom teeth," start coming in around age 17-25. However, the arrival of these teeth is often far from trouble-free. The extraction (removal) of one or more third molars is a relatively common procedure, performed on some 5 million patients every year. After a thorough examination and diagnostic tests such as x-rays or a CT scan, you may be told that you should have your wisdom teeth extracted. Here are some typical reasons why:
Your jaw may be too small to accommodate all your teeth, leading to excessive crowding and the chance of your wisdom teeth becoming impacted — that is, unable to emerge from the gums, and potentially harmful to adjacent bone or teeth
Your wisdom teeth may be erupting (coming in) in a crooked orientation, which can damage other teeth or anatomical structures in the jaw, and/or cause bite problems
If your wisdom tooth does not fully erupt (emerge from the gums), it can increase the chance for bacterial infection
A cyst (a closed, fluid-filled sac) may develop around the unerupted wisdom tooth, which can cause infection and injury to the adjacent bone or nerve tissue
Whether it is aimed at preventing future problems or needed to alleviate a condition you already have, the extraction of wisdom teeth can be an effective treatment. But, as with all medical procedures, its benefits must be weighed against the small risk of complications, and should be discussed in detail.
The Extraction Procedure
Wisdom tooth extraction is usually an in-office procedure which may be performed by a dentist or an oral surgeon. It's quite possible to have the treatment done with only a local anesthetic (numbing shot) to keep you from experiencing any pain; however, if multiple teeth are being extracted at one time (as is often the case), a general anesthetic or conscious sedation may be administered. The type of anesthesia that's best for you will be determined before the procedure.
Once you have been appropriately anesthetized, the gum tissue at the extraction site may need to be opened if the tooth is impacted. The tooth itself will then be gently removed. When the extraction is complete, you may need to have the site sutured (stitched) to aid healing. After the procedure is over, you will rest for a short time before going home. Depending on what type of anesthesia you have had, you may need another person to drive.
After the Procedure
The recovery period after wisdom tooth extraction generally lasts only a few days. During this time, you should rest when possible to encourage healing, and take any pain medication as prescribed. It's normal to experience some bleeding at the extraction site; this can be controlled by gently biting on gauze pads, changing them as needed, and resting with the head elevated on pillows rather than flat.
Holding an ice pack on the outside of your cheek for a few minutes at a time (for example, 5 minutes on / 5 minutes off) may help reduce swelling on the first day after the procedure. Starting on day 2, the warm moist heat of a washcloth placed on the cheek may make you more comfortable. Rinsing the mouth with warm salt water a few times a day can also help relieve discomfort.
You may want to eat soft foods for a few days after the extraction; likewise, be careful when brushing or putting anything in your mouth until your healing is complete. Be sure to follow the postoperative instructions you are given, as each situation is a little different; this will help you to be as comfortable as possible.
Related Articles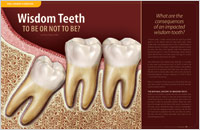 Wisdom Teeth – To Be Or Not To Be Wisdom teeth, which typically make their appearance between the ages of 17 and 25, can cause significant problems when there is not enough room for them to grow in properly. As a person ages, the effects of retained and impacted wisdom teeth can be more consequential. This article reviews the issues associated with wisdom teeth and whether or not they should be removed... Read Article