Online Dental Education Library
Ones healthy smile depends on simple dental care habits, such as brushing and flossing. Please follow these steps to protect you and your loved ones oral health.
Brushing for proper oral health
Consider these brushing basics from the American Dental Association:
Brush your teeth at least twice a day. When you brush, don't rush. Take enough time to do a thorough job.
Use the proper equipment. Use a fluoride toothpaste and a soft-bristled toothbrush that fits your mouth comfortably. Consider using an electric or battery-operated toothbrush, especially if you have arthritis or other problems that make it difficult to brush effectively.
Practice good technique. Hold your toothbrush at a slight angle against your teeth and brush with short back-and-forth motions. Remember to brush the inside and chewing surfaces of your teeth, as well as your tongue. Avoid vigorous or harsh scrubbing, which can irritate your gums.
Keep your equipment clean. Always rinse your toothbrush with water after brushing. Store your toothbrush in an upright position, if possible, and allow it to air dry until using it again. Don't routinely cover toothbrushes or store them in closed containers, which can encourage the growth of bacteria.
Know when to replace your toothbrush. Invest in a new toothbrush or a replacement head for your electric or battery-operated toothbrush every three to four months — or sooner if the bristles become frayed.
Flossing for proper oral health
You can't reach the tight spaces between your teeth or under your gumline with a toothbrush. That's why daily flossing is important. When you floss:
Don't skimp. Break off about 18 inches (46 centimeters) of dental floss. Wind most of the floss around the middle finger on one hand, and the rest around the middle finger on the other hand — leaving about 1 inch (3 centimeters) to floss your first tooth.
Take it one tooth at a time. Use your thumbs and forefingers to gently pull the floss from the gumline to the top of the tooth to scrape off plaque. Rub the floss against all sides of the tooth. Unwind to fresh floss as you progress to the next tooth.
Keep it up. If you have trouble getting floss through your teeth, try the waxed variety. If it's hard to manipulate the floss, use a floss holder or an interdental cleaner — such as a dental pick or stick designed to clean between the teeth.
The complex devices all around us — from long-range satellite links in our cars and offices to powerful computers in our hand-held gadgets — prove beyond a doubt that we live in a technology-driven world. In the field of dentistry, new technology is constantly changing the way diseases are diagnosed, routine procedures are performed, and illnesses are prevented. Although they may seem unfamiliar at first, new and improved dental technologies offer plenty of real benefits for patients. Here's a look at some of the latest examples, coming soon to (or now appearing at) a dental office near you.
Air Abrasion Technology. Bothered by the noise and vibration of the dental drill? This air-powered device could make that familiar high-pitched whine a thing of the past! Working like a mini-sandblaster for teeth, this hand-held device removes tiny amounts of tooth material with precision control.
Anesthesia Wand. If you don't like needles, this may be just what the doctor ordered: a pen-like device that meters out the precise amount of anesthetic you need — and even pre-numbs the insertion site, so you really won't feel a thing!
CAD/CAM Same-day Crown Fabrication. Hate to wait? By combining 3-D digital imaging and computer-aided design and manufacturing technology, it's now possible to have permanent crown restorations completed in a single day — much better than leaving the office with temporary crowns and coming back weeks later for permanent ones!
Cone Beam CT Imaging. What's better than an x-ray of your teeth? An on-screen, movable 3-D representation of your jaws! By taking a series of x-ray "slices" and stitching the images together with a powerful computer program, Cone Beam CT imaging creates a virtual model of your mouth. It can be used to find disease, plan procedures, and visualize internal structures that formerly wouldn't have been visible without surgery.
Dental Implants. Tooth replacement took a giant leap forward with the widespread use of dental implants — today's preferred method of replacing teeth. Dental implants are small titanium posts that replace the root part of your missing tooth. A realistic dental crown is then attached to the implant for a replacement tooth that looks and feels exactly like what nature gave you.
Digital Dental Impressions. Remember biting down on a tray of putty-like material, so a model could be made of your teeth? A digital imaging device now makes that unnecessary. Instead, your teeth can be "dusted" with a fine reflective powder, which is then recorded by a special camera. A series of images is converted into a 3-D model, which can be used to assess a tooth's condition or fabricate dental restorations.
Digital X-Rays. Diagnostic x-rays have long been invaluable to dentistry. The emergence of digital technology in the past decade, however, has made dental x-rays safer and even more useful. Digital technology cuts radiation exposure to patients by as much as 90% over traditional x-rays. And there are other advantages including the elimination of waiting time for pictures to develop, and sharper images that can be enhanced instantly to show detail.
Intra-Oral Camera. A picture is worth… plenty, when it comes to helping you understand your dental examination, diagnosis and treatment! With these tiny cameras, you can see what the dentist sees, on a small chair-side monitor. The images of your teeth can be saved as stills or video — or even printed out — so you can see exactly what's happening in your mouth.
Laser Diagnosis and Treatment. They're inside DVD players and scanner wands — and now, they are making their dental debut. Lasers are being used to detect tiny spots of tooth decay, treat gum disease, and remove cancerous cells in the mouth. They are also employed in gum surgery… even cavity treatments!
Related Articles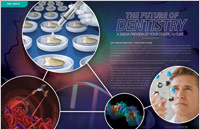 The Future Of Dentistry Can you imagine the day your dentist actually grows you a new tooth to replace one that has been lost? Can you conceive of the day when dentists protect babies from tooth decay before they even have teeth? Learn more about these exciting innovations — they're closer than you think... Read Article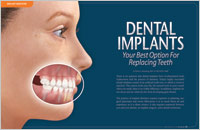 Dental Implants – Your Best Option For Replacing Teeth Dental implants have many advantages over older methods of tooth replacement like bridges and dentures — from the way they function and feel to the way they look and last. Vigorous research has documented and confirmed that in the right situations, dental implant success rates are over 95%. It is no exaggeration to say that they have revolutionized dentistry. They may even change your life... Read Article