Online Dental Education Library
Ones healthy smile depends on simple dental care habits, such as brushing and flossing. Please follow these steps to protect you and your loved ones oral health.
Brushing for proper oral health
Consider these brushing basics from the American Dental Association:
Brush your teeth at least twice a day. When you brush, don't rush. Take enough time to do a thorough job.
Use the proper equipment. Use a fluoride toothpaste and a soft-bristled toothbrush that fits your mouth comfortably. Consider using an electric or battery-operated toothbrush, especially if you have arthritis or other problems that make it difficult to brush effectively.
Practice good technique. Hold your toothbrush at a slight angle against your teeth and brush with short back-and-forth motions. Remember to brush the inside and chewing surfaces of your teeth, as well as your tongue. Avoid vigorous or harsh scrubbing, which can irritate your gums.
Keep your equipment clean. Always rinse your toothbrush with water after brushing. Store your toothbrush in an upright position, if possible, and allow it to air dry until using it again. Don't routinely cover toothbrushes or store them in closed containers, which can encourage the growth of bacteria.
Know when to replace your toothbrush. Invest in a new toothbrush or a replacement head for your electric or battery-operated toothbrush every three to four months — or sooner if the bristles become frayed.
Flossing for proper oral health
You can't reach the tight spaces between your teeth or under your gumline with a toothbrush. That's why daily flossing is important. When you floss:
Don't skimp. Break off about 18 inches (46 centimeters) of dental floss. Wind most of the floss around the middle finger on one hand, and the rest around the middle finger on the other hand — leaving about 1 inch (3 centimeters) to floss your first tooth.
Take it one tooth at a time. Use your thumbs and forefingers to gently pull the floss from the gumline to the top of the tooth to scrape off plaque. Rub the floss against all sides of the tooth. Unwind to fresh floss as you progress to the next tooth.
Keep it up. If you have trouble getting floss through your teeth, try the waxed variety. If it's hard to manipulate the floss, use a floss holder or an interdental cleaner — such as a dental pick or stick designed to clean between the teeth.
Occasionally, root canal treatment proves unsuccessful at resolving an infection in the tissues near a tooth's roots. That's when a minor surgical procedure called an apicoectomy may be recommended. Because this procedure is often performed with the aid of a microscope and other small specialized tools, it's considered a type of endodontic microsurgery. Probably the most common type of root canal surgery, an apicoectomy involves removing a small portion of the apex (tip) of the tooth's root, along with any surrounding hard or soft tissue that may be infected.
What would cause you to need an apicoectomy? There could be several reasons, including a canal that is blocked or inaccessible, an anatomical irregularity, or a fracture or crack in the tooth's roots. The procedure is normally only recommended after one or more root canal treatments have been attempted, and have failed. Since this type of problem generally occurs near the apex of the root, the procedure is often an effective way to treat a persistent infection.
Before an apicoectomy procedure, diagnostic images (such as X-rays) of the affected tooth and surrounding bone, a careful review of your medical history including medications you take (both prescription and non-prescription), and other factors are reviewed. If an apicoectomy is recommended, the reasons for it will be explained to you.
The Apicoectomy Procedure
Root canal surgery is usually performed under local anesthesia such as a numbing shot, so you won't feel any pain. To begin the procedure, a small incision is made in the gum, and the infection at the end of the tooth's roots is exposed. The infected tissue is then removed, along with a few millimeters of the root tip itself. A dye may be used to help make cracks or fractures easy to see; if we discover that the tooth is fractured, it may be better to extract (remove) it at this time instead of completing the apicoectomy.
Next, a microscope and light are used to examine the tiny canals. They will be cleaned with an ultrasonic instrument, then filled with an inert material and sealed up with a small filling. To finish the procedure, a small bone graft may be placed at the affected site, and then the gum tissue covering the tooth's root will be sutured (sewn) closed. X-rays may also be taken as the procedure nears completion. Afterwards, instructions on postoperative care will be given, and you'll go home. Most apicoectomies take about 30 to 90 minutes to complete.
Following the procedure, you may experience some swelling and soreness in the area that was treated. Over-the-counter non-steroidal anti-inflammatory medications (such as ibuprofen) are usually all that's needed to control any discomfort. You can probably return to normal activities the following day, but you may want to avoid eating hard or crunchy foods or brushing vigorously for a few days afterwards. If your sutures aren't self-dissolving, you will be asked to return in about a week to have them removed.
The Goal: Saving Your Tooth
Although apicoectomy is typically a safe and effective procedure, there are slight risks with any type of minor surgery. That's why apicoectomies are not recommended unless further root canal treatment won't be effective. An alternative treatment in most cases would be extraction of the tooth. However, our goal as dentists is to help you preserve your natural teeth for as long as possible.
While there are excellent methods of tooth replacement (such as dental implants), these involve further and more complex treatments, and they can be costly. An apicoectomy is generally a permanent and cost-effective solution which can help the tooth last for the rest of your life.
Related Articles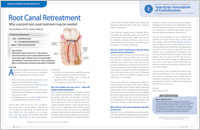 Root Canal Retreatment As occasionally happens with any dental or medical procedure, a tooth may not heal as anticipated after a root canal treatment. In these cases, it's often possible to save the tooth with a second root canal procedure... Read Article
Common Concerns About Root Canal Treatment The term "root canal" can send shivers down many a spine. However, preconceived notions that root canal treatment is filled with pain and discomfort are nothing more than outdated myths. In fact, root canal treatment doesn't cause pain but actually relieves it... Read Article