Online Dental Education Library
Ones healthy smile depends on simple dental care habits, such as brushing and flossing. Please follow these steps to protect you and your loved ones oral health.
Brushing for proper oral health
Consider these brushing basics from the American Dental Association:
Brush your teeth at least twice a day. When you brush, don't rush. Take enough time to do a thorough job.
Use the proper equipment. Use a fluoride toothpaste and a soft-bristled toothbrush that fits your mouth comfortably. Consider using an electric or battery-operated toothbrush, especially if you have arthritis or other problems that make it difficult to brush effectively.
Practice good technique. Hold your toothbrush at a slight angle against your teeth and brush with short back-and-forth motions. Remember to brush the inside and chewing surfaces of your teeth, as well as your tongue. Avoid vigorous or harsh scrubbing, which can irritate your gums.
Keep your equipment clean. Always rinse your toothbrush with water after brushing. Store your toothbrush in an upright position, if possible, and allow it to air dry until using it again. Don't routinely cover toothbrushes or store them in closed containers, which can encourage the growth of bacteria.
Know when to replace your toothbrush. Invest in a new toothbrush or a replacement head for your electric or battery-operated toothbrush every three to four months — or sooner if the bristles become frayed.
Flossing for proper oral health
You can't reach the tight spaces between your teeth or under your gumline with a toothbrush. That's why daily flossing is important. When you floss:
Don't skimp. Break off about 18 inches (46 centimeters) of dental floss. Wind most of the floss around the middle finger on one hand, and the rest around the middle finger on the other hand — leaving about 1 inch (3 centimeters) to floss your first tooth.
Take it one tooth at a time. Use your thumbs and forefingers to gently pull the floss from the gumline to the top of the tooth to scrape off plaque. Rub the floss against all sides of the tooth. Unwind to fresh floss as you progress to the next tooth.
Keep it up. If you have trouble getting floss through your teeth, try the waxed variety. If it's hard to manipulate the floss, use a floss holder or an interdental cleaner — such as a dental pick or stick designed to clean between the teeth.
Most of the time, root canal therapy is effective at permanently relieving tooth pain and halting infection of the soft tissues deep inside the teeth and gums. But occasionally, as in any medical procedure, the body may not heal as we expect it to. After a period of time, you may experience pain in the affected tooth again — or, even if you have no symptoms, x-rays may reveal that infection is still present near the tooth's roots. In that case, you may need root canal retreatment.
There are several reasons why your root canal treatment may not have succeeded at first. The "canals" themselves are slender, forking passageways deep inside the tooth that enclose nerves and blood vessels: the tooth's soft "pulp." They can be so narrow and intricate that some may have gone undetected, or failed to respond to treatment the first time. Or, the canals might have become recontaminated via a number of routes: a delayed or ineffective crown restoration, new tooth decay, advancing gum disease, or a cracked or fractured tooth. Any of these conditions could result in reinfection.
If initial root canal (endodontic) therapy has failed, the first thing to do is evaluate your options. Besides retreatment, the alternatives may include endodontic surgery or extraction (removal) of the tooth. However, a missing tooth should be replaced by a dental implant, a bridge or a partial denture as soon as possible — and none of these are simple or inexpensive options. That's part of the reason we prefer to help you retain your natural teeth whenever possible.
The Retreatment Procedure
If endodontic retreatment is appropriate for you, the procedure is similar to a routine root canal, with a few added measures. After you are anesthetized (usually with a numbing shot), any restorations presently on your tooth — crowns, for example — will be altered to provide access to the root canal filling material. This is usually accomplished by making a small opening into the inner part of the tooth, removing filling material or obstructions, and cleaning the pulp chambers with tiny instruments.
A microscope and light are used to search carefully for additional canals or unusual structures. If the treatment process becomes extremely complex, it may be finished in a subsequent visit. Finally, when all the canals have been cleaned and disinfected, they will be filled with inert material and sealed. Then a temporary filling will be placed in the tooth. A permanent restoration will need to be placed at a later time.
Is Root Canal Retreatment My Best Option?
Medicine and dentistry are as much art as science, and neither one can guarantee that any procedure will be 100% successful. While endodontic retreatment can be more complex than initial root canal therapy, it offers a good chance of success in many instances. And, since the field of endodontics is constantly evolving, it may be possible to use new techniques that weren't available when your first root canal procedure was done.
Dentists take seriously our responsibility to help you understand the risks, benefits and alternatives for treating root canal problems. When we recommend retreatment, it's because we feel it is the best way for you to preserve your natural teeth — and we want you to be able to enjoy them for many years to come.
Related Articles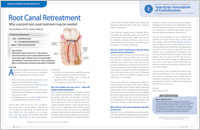 Root Canal Retreatment As occasionally happens with any dental or medical procedure, a tooth may not heal as anticipated after a root canal treatment. In these cases, it's often possible to save the tooth with a second root canal procedure... Read Article