Online Dental Education Library
Ones healthy smile depends on simple dental care habits, such as brushing and flossing. Please follow these steps to protect you and your loved ones oral health.
Brushing for proper oral health
Consider these brushing basics from the American Dental Association:
Brush your teeth at least twice a day. When you brush, don't rush. Take enough time to do a thorough job.
Use the proper equipment. Use a fluoride toothpaste and a soft-bristled toothbrush that fits your mouth comfortably. Consider using an electric or battery-operated toothbrush, especially if you have arthritis or other problems that make it difficult to brush effectively.
Practice good technique. Hold your toothbrush at a slight angle against your teeth and brush with short back-and-forth motions. Remember to brush the inside and chewing surfaces of your teeth, as well as your tongue. Avoid vigorous or harsh scrubbing, which can irritate your gums.
Keep your equipment clean. Always rinse your toothbrush with water after brushing. Store your toothbrush in an upright position, if possible, and allow it to air dry until using it again. Don't routinely cover toothbrushes or store them in closed containers, which can encourage the growth of bacteria.
Know when to replace your toothbrush. Invest in a new toothbrush or a replacement head for your electric or battery-operated toothbrush every three to four months — or sooner if the bristles become frayed.
Flossing for proper oral health
You can't reach the tight spaces between your teeth or under your gumline with a toothbrush. That's why daily flossing is important. When you floss:
Don't skimp. Break off about 18 inches (46 centimeters) of dental floss. Wind most of the floss around the middle finger on one hand, and the rest around the middle finger on the other hand — leaving about 1 inch (3 centimeters) to floss your first tooth.
Take it one tooth at a time. Use your thumbs and forefingers to gently pull the floss from the gumline to the top of the tooth to scrape off plaque. Rub the floss against all sides of the tooth. Unwind to fresh floss as you progress to the next tooth.
Keep it up. If you have trouble getting floss through your teeth, try the waxed variety. If it's hard to manipulate the floss, use a floss holder or an interdental cleaner — such as a dental pick or stick designed to clean between the teeth.
When advanced gum disease (periodontitis) develops, your teeth are in danger: At this stage, the ligaments and bone tissue that surround them are being destroyed, and you could even begin losing teeth! If the disease can't be controlled by non-surgical treatments like cleaning and scaling, then periodontal flap surgery may be your best treatment option.
Flap surgery is today's leading method for treating and repairing periodontal pockets. What are these "pockets?" They are areas below the gum line where gum tissue has detached from the teeth, resulting in an uncleansable space where harmful bacteria can proliferate. These bacteria cause inflammation of the tissues, resulting in sensitivity, bleeding, and pain. Left untreated, they can cause a host of problems including gum disease, loss of the tooth-supporting bone structure, and possibly even systemic (whole-body) problems.
When periodontal pockets develop, the first step in treating them is usually via cleaning and scaling (also referred to as root debridement) with a manual or ultrasonic instrument. If this isn't effective, then periodontal surgery is considered. Flap surgery isn't a cure for periodontal disease — but it helps create an environment that makes it easier to maintain your periodontal health. And even if you're prone to gum disease, proper professional treatment and regular care at home can help keep your teeth healthy for as long as possible.
The Goals of Flap Surgery
One major objective of flap surgery is to eliminate or reduce the pocket itself. To access it, a flap-like incision is made in the gum tissue. This allows diseased tissue to be removed from inside the pocket, and provides access to the teeth's root surfaces for a thorough cleaning, which helps to eliminate harmful plaque and calculus (tartar). Afterward, the "flap" is closed, sealing the area. This begins the healing process, which takes place rapidly.
Another goal is the regeneration of periodontal ligament and bone tissue which may have been lost to the disease. A variety of techniques may be used to accomplish this, including high-tech methods of bone grafting and chemicals referred to as growth factors. These approaches help restore the gums to their normal form and function, and promote the healthy and secure anchoring of teeth.
The Flap Surgery Procedure
Flap surgery is typically done under local anesthesia, sometimes accompanied by oral anti-anxiety medications; alternatively, it may be performed under intravenous conscious sedation. After anesthesia has taken effect, a small incision is made to separate the gums from the teeth. The outer gum tissue is gently folded back to give access to the roots and the supporting ligament and bone tissue.
Next, the inflamed gum tissue can be removed, and the tooth roots can be cleaned; if needed, the area may also be treated with antibiotics or other medications. Bone defects can be repaired with grafting material, and proper regeneration of the periodontal ligament can be encouraged by physical (barrier membranes) and chemical (growth factors) methods. Finally, the incision is closed and the procedure is completed.
Performed by an experienced hand, state-of-the-art flap surgery has an excellent track record and offers well-established benefits. It's often the treatment of choice for relieving periodontal disease and helping to maintain your oral health — and preserve your teeth.
Related Articles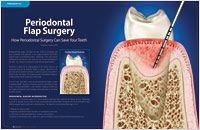 Periodontal Flap Surgery Most surgical patients are surprised by how comfortable the experience of flap surgery is and how painless it is afterward. Today's highly sophisticated and meticulous techniques allow the periodontal surgeon to reconstitute, regenerate, and reconstruct lost and destroyed tissues. Find out how periodontal surgery can prolong the life of your teeth... Read Article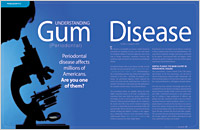 Understanding Gum (Periodontal) Disease Have your gums ever bled when you brushed or flossed? This most commonly overlooked simple sign may be the start of a silent progressive disease leading to tooth loss. Learn what you can do to prevent this problem and keep your teeth for life... Read Article