Online Dental Education Library
Ones healthy smile depends on simple dental care habits, such as brushing and flossing. Please follow these steps to protect you and your loved ones oral health.
Brushing for proper oral health
Consider these brushing basics from the American Dental Association:
Brush your teeth at least twice a day. When you brush, don't rush. Take enough time to do a thorough job.
Use the proper equipment. Use a fluoride toothpaste and a soft-bristled toothbrush that fits your mouth comfortably. Consider using an electric or battery-operated toothbrush, especially if you have arthritis or other problems that make it difficult to brush effectively.
Practice good technique. Hold your toothbrush at a slight angle against your teeth and brush with short back-and-forth motions. Remember to brush the inside and chewing surfaces of your teeth, as well as your tongue. Avoid vigorous or harsh scrubbing, which can irritate your gums.
Keep your equipment clean. Always rinse your toothbrush with water after brushing. Store your toothbrush in an upright position, if possible, and allow it to air dry until using it again. Don't routinely cover toothbrushes or store them in closed containers, which can encourage the growth of bacteria.
Know when to replace your toothbrush. Invest in a new toothbrush or a replacement head for your electric or battery-operated toothbrush every three to four months — or sooner if the bristles become frayed.
Flossing for proper oral health
You can't reach the tight spaces between your teeth or under your gumline with a toothbrush. That's why daily flossing is important. When you floss:
Don't skimp. Break off about 18 inches (46 centimeters) of dental floss. Wind most of the floss around the middle finger on one hand, and the rest around the middle finger on the other hand — leaving about 1 inch (3 centimeters) to floss your first tooth.
Take it one tooth at a time. Use your thumbs and forefingers to gently pull the floss from the gumline to the top of the tooth to scrape off plaque. Rub the floss against all sides of the tooth. Unwind to fresh floss as you progress to the next tooth.
Keep it up. If you have trouble getting floss through your teeth, try the waxed variety. If it's hard to manipulate the floss, use a floss holder or an interdental cleaner — such as a dental pick or stick designed to clean between the teeth.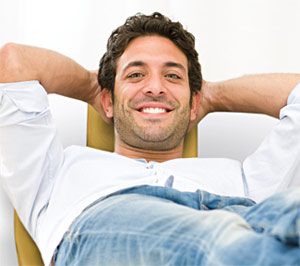 Some people fail to receive the benefits of modern dental treatment because of a simple yet seemingly overwhelming problem: Fear. It isn't uncommon to have a little anxiety about an upcoming dental procedure. But if your fears have kept you away from the dental office when you know you really should go — take heart! Conscious sedation with nitrous oxide can help you lose that anxiety, and make the whole experience so stress-free that you may not even remember it when it's over.
Nitrous oxide, a colorless gas with a slightly sweet odor, has been used in medicine for about a century; however its outdated nickname, "laughing gas," is undeserved. It's a safe and effective method of administering conscious sedation — which means that you'll stay awake during the procedure. But when nitrous oxide is used in combination with a local anesthetic, you won't feel pain or anxiety. In fact, many patients report a feeling of well-being during this type of sedation. All bodily functions remain normal during the administration of nitrous oxide, and its effects wear off quickly afterwards.
How Is Nitrous Oxide Administered?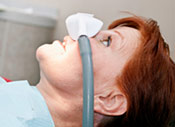 As a form of conscious sedation, nitrous oxide is inhaled through a small mask that fits comfortably over your nose. The gas is mixed with oxygen as it is being delivered, and both gases are always kept at a level that is safe for the body. In just a few minutes, you may start to experience a floating sensation, and perhaps some tingling in the hands and feet. That's a sign that the sedation is working. Once it has been verified that you're calm and comfortable, and that the dose is correct, your dental procedure can begin.
Nitrous oxide itself isn't a substitute for a local anesthetic — it's considered an anxiolytic, which means it makes anxiety disappear. For some procedures, you may still need an anesthetic injection. The difference is, you won't mind. Yet, you won't be asleep — you'll be able to speak, be aware of what's going on, and you will remain in control during the procedure. In fact, the dose can be fine-tuned to just the level of sedation you need.
When the procedure is over, the flow of nitrous oxide is decreased to zero, and the oxygen may be increased. After resting in the chair for a few minutes, you'll be able to sit up, and soon you can resume normal activities like driving. Although the experience has been compared to "having a couple of drinks," there is very little "hangover" effect afterward.
Who Can Benefit From Nitrous Oxide?
Most people whose anxiety would otherwise keep them out of the dental chair can benefit from conscious sedation with nitrous oxide. Before beginning treatment, we will take a complete medical history, including your use of both prescription and non-prescription medications. If you are pregnant, have COPD (Chronic Obstructive Pulmonary Disease) or some other pulmonary diseases, or are taking certain drugs, it may not be right for you. However, if you feel that you would benefit from a more stress-free experience in the dental office, ask about nitrous oxide conscious sedation.
Related Articles