Online Dental Education Library
Ones healthy smile depends on simple dental care habits, such as brushing and flossing. Please follow these steps to protect you and your loved ones oral health.
Brushing for proper oral health
Consider these brushing basics from the American Dental Association:
Brush your teeth at least twice a day. When you brush, don't rush. Take enough time to do a thorough job.
Use the proper equipment. Use a fluoride toothpaste and a soft-bristled toothbrush that fits your mouth comfortably. Consider using an electric or battery-operated toothbrush, especially if you have arthritis or other problems that make it difficult to brush effectively.
Practice good technique. Hold your toothbrush at a slight angle against your teeth and brush with short back-and-forth motions. Remember to brush the inside and chewing surfaces of your teeth, as well as your tongue. Avoid vigorous or harsh scrubbing, which can irritate your gums.
Keep your equipment clean. Always rinse your toothbrush with water after brushing. Store your toothbrush in an upright position, if possible, and allow it to air dry until using it again. Don't routinely cover toothbrushes or store them in closed containers, which can encourage the growth of bacteria.
Know when to replace your toothbrush. Invest in a new toothbrush or a replacement head for your electric or battery-operated toothbrush every three to four months — or sooner if the bristles become frayed.
Flossing for proper oral health
You can't reach the tight spaces between your teeth or under your gumline with a toothbrush. That's why daily flossing is important. When you floss:
Don't skimp. Break off about 18 inches (46 centimeters) of dental floss. Wind most of the floss around the middle finger on one hand, and the rest around the middle finger on the other hand — leaving about 1 inch (3 centimeters) to floss your first tooth.
Take it one tooth at a time. Use your thumbs and forefingers to gently pull the floss from the gumline to the top of the tooth to scrape off plaque. Rub the floss against all sides of the tooth. Unwind to fresh floss as you progress to the next tooth.
Keep it up. If you have trouble getting floss through your teeth, try the waxed variety. If it's hard to manipulate the floss, use a floss holder or an interdental cleaner — such as a dental pick or stick designed to clean between the teeth.
They are inside your laptop computer and your DVD player, present on the factory floor and the supermarket checkout line. And now, lasers are finding increasing use in dentistry. Someday soon, you may have a routine dental procedure performed with the aid of a powerful, yet highly controllable beam of laser light, instead of a drill or a probe.
What are dentists currently using lasers for? These devices have been proven to help in the detection and treatment of oral diseases. They can be used for treating gum disease, detecting cancer, and pinpointing tooth decay in its early stages. They can precisely remove tissue, seal painful ulcerations like canker sores, and even treat small cavities. In the future, dental laser technology will undoubtedly find even more applications.
How Do Lasers Work?
Lasers take advantage of the quantum behavior of electrons, tiny particles inside atoms. By stimulating atoms with pulses of energy, and then using a method of optical amplification, they cause the atoms to produce a beam of coherent light. Essentially, that means that they emit light which has a great deal of energy, yet can be precisely controlled. It's the combination of high energy and precision that make lasers so useful.
Where Are Lasers Being Used?
At present, the use of lasers in dentistry falls into three general categories: disease detection, soft tissue treatments, and hard tissue treatments.
There are many ways lasers can aid in diagnosis. Laser light of specific wavelength, for example, can detect tiny pits and fissures in the biting surfaces of the tooth that a traditional dental tool can't find. This enables a defect that's too small to be treated at present to be carefully monitored. Lasers can also help locate dental calculus (tartar) beneath the surface of the gums, and can even aid in the detection of oral cancer in its early stages, accurately showing where healthy tissue ends and diseased tissue begins.
For the treatment of soft tissue problems, lasers have many advantages. They are minimally invasive tools that generally involve taking away less tissue than conventional methods. Used in gum surgery, for example, lasers can treat gum disease by killing harmful bacteria deep in pockets below the gum line, and removing the diseased tissue without harming the healthy tissue. They can also remove the thin layer of cells that inhibits reattachment of the gum and bone tissues to the tooth, while sealing off the adjacent blood vessels. This type of procedure generally results in less bleeding and pain. Lasers are also effective in treating ulcers and sores on the lips or gums.
Lasers are even finding increasing use for hard-tissue procedures, like the treatment of dental caries and cavities. Not only are they more exact in the amount of material they remove, but they eliminate the noise and vibration of the dental drill, which is uncomfortable for some patients.
As lasers become more common in the dental office, these high-tech tools will be integrated into routine dental practice. This promising technology already offers some real benefits, and is sure to find increasing use in the near future.
Related Articles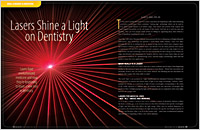 Lasers Shine a Light on Dentistry Lasers have revolutionized medicine and now they're beginning to blaze a new trail in dentistry. Today, at the dawn of the 21st century there are a variety of dental uses for lasers, from diagnosing cavities and the removal of gum and tooth structure to the treatment of disease... Read Article