Online Dental Education Library
Ones healthy smile depends on simple dental care habits, such as brushing and flossing. Please follow these steps to protect you and your loved ones oral health.
Brushing for proper oral health
Consider these brushing basics from the American Dental Association:
Brush your teeth at least twice a day. When you brush, don't rush. Take enough time to do a thorough job.
Use the proper equipment. Use a fluoride toothpaste and a soft-bristled toothbrush that fits your mouth comfortably. Consider using an electric or battery-operated toothbrush, especially if you have arthritis or other problems that make it difficult to brush effectively.
Practice good technique. Hold your toothbrush at a slight angle against your teeth and brush with short back-and-forth motions. Remember to brush the inside and chewing surfaces of your teeth, as well as your tongue. Avoid vigorous or harsh scrubbing, which can irritate your gums.
Keep your equipment clean. Always rinse your toothbrush with water after brushing. Store your toothbrush in an upright position, if possible, and allow it to air dry until using it again. Don't routinely cover toothbrushes or store them in closed containers, which can encourage the growth of bacteria.
Know when to replace your toothbrush. Invest in a new toothbrush or a replacement head for your electric or battery-operated toothbrush every three to four months — or sooner if the bristles become frayed.
Flossing for proper oral health
You can't reach the tight spaces between your teeth or under your gumline with a toothbrush. That's why daily flossing is important. When you floss:
Don't skimp. Break off about 18 inches (46 centimeters) of dental floss. Wind most of the floss around the middle finger on one hand, and the rest around the middle finger on the other hand — leaving about 1 inch (3 centimeters) to floss your first tooth.
Take it one tooth at a time. Use your thumbs and forefingers to gently pull the floss from the gumline to the top of the tooth to scrape off plaque. Rub the floss against all sides of the tooth. Unwind to fresh floss as you progress to the next tooth.
Keep it up. If you have trouble getting floss through your teeth, try the waxed variety. If it's hard to manipulate the floss, use a floss holder or an interdental cleaner — such as a dental pick or stick designed to clean between the teeth.
You always brush twice a day, avoid sugary snacks between meals, and go to the dentist regularly. Do you still have to floss your teeth?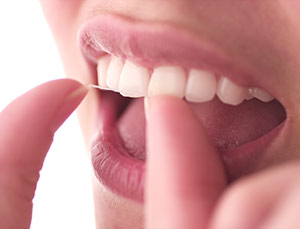 The short answer: Yes, at least once a day. Flossing is probably your single most important weapon against plaque, the clingy bacterial biofilm that sticks to the surfaces of your teeth. Plaque is the principal cause of tooth decay; but it is also the cause of periodontitis (gum disease), bad breath, and other maladies. Brushing is a good start — but flossing removes plaque in places a brush can't reach, like the small gaps between teeth and under the gums. It also polishes tooth surfaces and decreases the risk of gum disease.
Some people may think they don't have time to floss, but once you get the hang of it, flossing only takes few minutes. If you are going to floss only once a day, it's best to do it at night just before going to sleep. That's because there is less saliva present in your mouth when you are sleeping, so plaque is more concentrated and potentially more harmful. Just in case you never really learned proper flossing techniques, here's a step by step approach including some easy tips for doing a great job.
Proper Flossing Technique
Cut off a piece of floss about 18 inches long. Wind it around the middle finger of both hands leaving a gap of around three or four inches. You will now be able to use different combinations of your thumbs and index fingers to correctly position the floss between your teeth for all areas of your mouth.

TIP: The most common mistake people make while flossing is that they tighten their lips and cheeks making it impossible to get their fingers into the mouth. Relax your lips and cheeks.

Now, guide the floss gently into the space between your teeth.

TIP: Even if the gap is tight, try not to snap the floss into your gums as you're inserting it. A side-to-side sawing motion is good to use here, but only when slipping the floss gently between the teeth.

There are two sides to each space between your teeth and you must floss each side separately so as not to injure the triangle of gum tissue between your teeth. Run the floss up and down the surface of the tooth, making sure you are going down to the gum line and then up to the highest contact point between the teeth. Apply pressure with your fingers away from the gum triangle, letting it curve around the side of the tooth forming the letter "C" with the floss.

TIP: You want your fingers as close to the front and back of the tooth as possible so both fingers move in harmony up and down until you hear a squeaky clean sound. This is easier with unwaxed floss. The smaller the amount of floss between your fingers, the more control you have flossing.

Next, move your fingers to the top contact area between the teeth and slide across to the other side of the space. Apply pressure with your fingers in the opposite direction and repeat.
Slide the floss out from between the teeth. If it's frayed or brownish, that's good: you're removing plaque! Unwind a little new floss from the "dispenser" finger, and take up the used floss on the other finger.
Repeat the process on the next space between teeth. Work all around the mouth — and don't forget back sides of the last molars.
Variations for Comfort
If you're having trouble with the two-finger method, here's another way to try flossing: Just tie the same amount of floss into a big loop, place all your fingers (but not thumbs) inside the loop, and work it around your teeth with index fingers and thumbs. All the other steps remain the same.
Once you've got the basics down, there are a few different types of flosses you can try, including flavored, waxed, and wider width. Some people find waxed floss slides more easily into tighter gaps between teeth or restorations — but it may not make that satisfying "squeak" as it's cleaning. Others prefer wide floss for cleaning around bridgework. But whichever way works best for you, the important thing is to keep it up!
Related Articles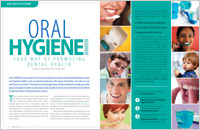 Oral Hygiene Behavior — Dental Health for Life The best tools for maintaining your oral health and minimizing dental problems are a quality toothbrush, toothpaste, a roll of dental floss, approved mouthwash and good diet. This article details a winning game plan for oral health... Read Article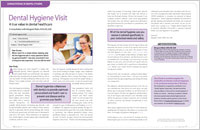 Dental Hygiene Visit There's a lot more going on at your regular dental hygiene visit than a feel-good polishing! Dental hygienists collaborate with dentists to provide optimum personalized oral health care to prevent oral disease and to promote your health... Read Article