Online Dental Education Library
Ones healthy smile depends on simple dental care habits, such as brushing and flossing. Please follow these steps to protect you and your loved ones oral health.
Brushing for proper oral health
Consider these brushing basics from the American Dental Association:
Brush your teeth at least twice a day. When you brush, don't rush. Take enough time to do a thorough job.
Use the proper equipment. Use a fluoride toothpaste and a soft-bristled toothbrush that fits your mouth comfortably. Consider using an electric or battery-operated toothbrush, especially if you have arthritis or other problems that make it difficult to brush effectively.
Practice good technique. Hold your toothbrush at a slight angle against your teeth and brush with short back-and-forth motions. Remember to brush the inside and chewing surfaces of your teeth, as well as your tongue. Avoid vigorous or harsh scrubbing, which can irritate your gums.
Keep your equipment clean. Always rinse your toothbrush with water after brushing. Store your toothbrush in an upright position, if possible, and allow it to air dry until using it again. Don't routinely cover toothbrushes or store them in closed containers, which can encourage the growth of bacteria.
Know when to replace your toothbrush. Invest in a new toothbrush or a replacement head for your electric or battery-operated toothbrush every three to four months — or sooner if the bristles become frayed.
Flossing for proper oral health
You can't reach the tight spaces between your teeth or under your gumline with a toothbrush. That's why daily flossing is important. When you floss:
Don't skimp. Break off about 18 inches (46 centimeters) of dental floss. Wind most of the floss around the middle finger on one hand, and the rest around the middle finger on the other hand — leaving about 1 inch (3 centimeters) to floss your first tooth.
Take it one tooth at a time. Use your thumbs and forefingers to gently pull the floss from the gumline to the top of the tooth to scrape off plaque. Rub the floss against all sides of the tooth. Unwind to fresh floss as you progress to the next tooth.
Keep it up. If you have trouble getting floss through your teeth, try the waxed variety. If it's hard to manipulate the floss, use a floss holder or an interdental cleaner — such as a dental pick or stick designed to clean between the teeth.
Everybody gets a dry mouth from time to time. Temporary mouth dryness can be brought on by dehydration, stress, or simply the normal reduction in saliva flow at night. But persistent mouth dryness, a condition known as xerostomia, is cause for concern.
Xerostomia occurs when your salivary glands, which normally keep your mouth moist by secreting saliva, are not working properly. A chronic lack of saliva has significant health implications. For one thing, it can be difficult to eat with a dry mouth; tasting, chewing and swallowing may also be affected. This could compromise your nutrition. Also, a dry mouth creates ideal conditions for tooth decay. That's because saliva plays a very important role in keeping decay-causing oral bacteria in check and neutralizing the acids these bacteria produce; it is the acid in your mouth that erodes tooth enamel and starts the decay process. A dry mouth can also cause bad breath.
Possible Causes
There are several possible causes for xerostomia, including:
Medications. For most people suffering from dry mouth, medications are to blame. According to the U.S. Surgeon General, there are more than 500 medications (both prescription and over-the-counter) that have this side effect. Antihistamines (for allergies), diuretics (which drain excess fluid), and antidepressants, are high on the list of medications that cause xerostomia. Chemotherapy drugs can also have this effect.
Radiation Therapy. Radiation of the head and neck can damage salivary glands—sometimes permanently. Radiation to treat cancer in other parts of the body will not cause xerostomia.
Disease. Some systemic (general body) diseases can cause dry mouth. Sjögren's syndrome, for example, is an autoimmune disease that causes the body to attack its own moisture-producing glands in the eyes and mouth. Other diseases known to cause dry mouth include diabetes, Parkinson's disease, cystic fibrosis and AIDS.
Nerve Damage. Trauma to the head or neck can damage the nerves involved in the production of saliva.
Getting Relief
If you are taking any medication regularly, it's possible that your physician can either suggest a substitute or adjust the dosage to relieve your symptoms of dry mouth. If this is not possible or has already been tried, here are some other things you can do:
Sip fluids frequently. This is particularly helpful during meals. Make sure what you drink does not contain sugar and isn't acidic, as these will both increase your risk of tooth decay. All sodas, including diet varieties, should be avoided, as they are acidic and attack the tooth surface.
Chew sugarless gum. This will help stimulate saliva flow if your salivary glands are not damaged. Choose a variety that contains xylitol, a natural sugar substitute that can be protective against tooth decay.
Avoid drying/irritating foods and beverages. These include toast and crackers, salty and spicy foods, alcohol and caffeinated drinks.
Don't smoke. This can dry out the mouth and also increase your risk of gum disease.
Use a humidifier. Running a cool-mist humidifier at night can be soothing.
Use saliva stimulants/substitutes. There are prescription and over-the-counter products that can either stimulate saliva or act as a substitute oral fluid. We can give you some recommendations.
Practice good oral hygiene. Brush at least twice a day with a fluoride toothpaste; this will remove bacterial plaque and add minerals to strengthen your teeth. Don't forget to floss.
Have an exam/cleaning. If you have dry mouth, it's more important than ever to maintain your regular schedule of visits to the dental office. Please be sure to let us know what medications you are taking, particularly if there have been any changes recently. We will do our best to help relieve any dry-mouth symptoms you are experiencing.
Related Articles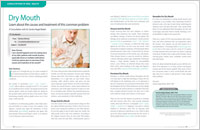 Dry Mouth Dry mouth, caused by insufficient saliva flow, is more than a minor annoyance to the millions who suffer from it. That's because saliva helps maintain oral health in a variety of ways. If your mouth is persistently dry, here's what you should know... Read Article