Online Dental Education Library
Ones healthy smile depends on simple dental care habits, such as brushing and flossing. Please follow these steps to protect you and your loved ones oral health.
Brushing for proper oral health
Consider these brushing basics from the American Dental Association:
Brush your teeth at least twice a day. When you brush, don't rush. Take enough time to do a thorough job.
Use the proper equipment. Use a fluoride toothpaste and a soft-bristled toothbrush that fits your mouth comfortably. Consider using an electric or battery-operated toothbrush, especially if you have arthritis or other problems that make it difficult to brush effectively.
Practice good technique. Hold your toothbrush at a slight angle against your teeth and brush with short back-and-forth motions. Remember to brush the inside and chewing surfaces of your teeth, as well as your tongue. Avoid vigorous or harsh scrubbing, which can irritate your gums.
Keep your equipment clean. Always rinse your toothbrush with water after brushing. Store your toothbrush in an upright position, if possible, and allow it to air dry until using it again. Don't routinely cover toothbrushes or store them in closed containers, which can encourage the growth of bacteria.
Know when to replace your toothbrush. Invest in a new toothbrush or a replacement head for your electric or battery-operated toothbrush every three to four months — or sooner if the bristles become frayed.
Flossing for proper oral health
You can't reach the tight spaces between your teeth or under your gumline with a toothbrush. That's why daily flossing is important. When you floss:
Don't skimp. Break off about 18 inches (46 centimeters) of dental floss. Wind most of the floss around the middle finger on one hand, and the rest around the middle finger on the other hand — leaving about 1 inch (3 centimeters) to floss your first tooth.
Take it one tooth at a time. Use your thumbs and forefingers to gently pull the floss from the gumline to the top of the tooth to scrape off plaque. Rub the floss against all sides of the tooth. Unwind to fresh floss as you progress to the next tooth.
Keep it up. If you have trouble getting floss through your teeth, try the waxed variety. If it's hard to manipulate the floss, use a floss holder or an interdental cleaner — such as a dental pick or stick designed to clean between the teeth.
When you experience pain in your mouth, it's sometimes abundantly clear which tooth is causing it. At other times, the sensation of discomfort is more diffuse, generalized or hard to pinpoint. On occasion, it can even be challenging to determine exactly what problem or combination of problems is causing the symptoms you're experiencing. This may be the case when an infection exists in the root canals of a tooth as well as the gum tissue adjacent to it.
In this situation, the infection may have begun in the pulp of the tooth itself; or, it may have started in the gums. Over time, it has spread from one location to the other — and now it's causing a confusing set of symptoms that are difficult to sort out. Regardless of where the problem started, a thorough analysis will be necessary before treatment can begin, to give you the best chance of saving the tooth.
Confusing Symptoms
From time to time, many people experience oral discomfort that's dull or intermittent. Occasionally, a more insistent pain may be triggered by a stimulus like temperature (from hot or cold foods or beverages) or pressure (from biting down on something). Sometimes, it may feel as though the ache is coming from a group of teeth rather than one single tooth — or even from the sinus area above the back teeth.
These symptoms can indicate a number of dental issues, including root canal and gum problems, and shouldn't be disregarded. However, if you manage to ignore the acute pain, in many cases it will fade in time. But this isn't good news: It generally means that the infected tissue in the pulp of your tooth has died, and the nerve is no longer functioning. That's when the problem may become more serious.
Chicken or Egg?
When the pulp tissue inside your tooth becomes severely infected, it's possible for the disease to move through openings at the end (apex) of the root, and outside of the tooth. It can then spread to the periodontal ligament, which anchors the tooth to the surrounding bone and gum tissue. From there, the infection may extend to the gum tissue and cause periodontal disease, or even result in a painful gum abscess. At that point, you may have pain — even severe pain that will let you know exactly which tooth is affected.
But it's also possible for the infection to be spread by the exact opposite pathway. In this case, an infection that originated in the gums (commonly due to periodontal disease caused by a buildup of plaque) may have has traveled through small passageways called accessory canals, which are located in between a tooth's roots, or on the sides of the roots. The infection can then extend into the tooth's pulp. If your teeth are fractured, it's even easier for disease to spread.
Treatment Methods
When dental problems involves both root canals and gum disease, saving the affected tooth can prove challenging. This is when it matters where the infection started: If it's primarily a root-canal problem that later moved into the gums, the outlook for the tooth is reasonably positive if it receives immediate treatment. If gum disease came first, however, the prospects often aren't as good; by the time the infection has moved into the tooth, it's possible that much bone has already been lost, making the tooth's long-term prognosis poor.
In either case, the cause of the tooth pain will need to be diagnosed and an effective treatment plan developed. The sooner that happens, the better: Root canal and gum problems simply don't get better on their own.
Related Articles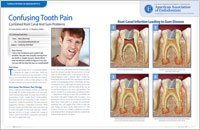 Confusing Tooth Pain It is occasionally difficult to pinpoint the origin of tooth pain, which can result from an infection of the tooth itself, or of the gum, or even spread from one to the other. Nevertheless, it's always important to sort out what's going on so that the right treatment can be selected and the tooth saved... Read Article