Online Dental Education Library
Ones healthy smile depends on simple dental care habits, such as brushing and flossing. Please follow these steps to protect you and your loved ones oral health.
Brushing for proper oral health
Consider these brushing basics from the American Dental Association:
Brush your teeth at least twice a day. When you brush, don't rush. Take enough time to do a thorough job.
Use the proper equipment. Use a fluoride toothpaste and a soft-bristled toothbrush that fits your mouth comfortably. Consider using an electric or battery-operated toothbrush, especially if you have arthritis or other problems that make it difficult to brush effectively.
Practice good technique. Hold your toothbrush at a slight angle against your teeth and brush with short back-and-forth motions. Remember to brush the inside and chewing surfaces of your teeth, as well as your tongue. Avoid vigorous or harsh scrubbing, which can irritate your gums.
Keep your equipment clean. Always rinse your toothbrush with water after brushing. Store your toothbrush in an upright position, if possible, and allow it to air dry until using it again. Don't routinely cover toothbrushes or store them in closed containers, which can encourage the growth of bacteria.
Know when to replace your toothbrush. Invest in a new toothbrush or a replacement head for your electric or battery-operated toothbrush every three to four months — or sooner if the bristles become frayed.
Flossing for proper oral health
You can't reach the tight spaces between your teeth or under your gumline with a toothbrush. That's why daily flossing is important. When you floss:
Don't skimp. Break off about 18 inches (46 centimeters) of dental floss. Wind most of the floss around the middle finger on one hand, and the rest around the middle finger on the other hand — leaving about 1 inch (3 centimeters) to floss your first tooth.
Take it one tooth at a time. Use your thumbs and forefingers to gently pull the floss from the gumline to the top of the tooth to scrape off plaque. Rub the floss against all sides of the tooth. Unwind to fresh floss as you progress to the next tooth.
Keep it up. If you have trouble getting floss through your teeth, try the waxed variety. If it's hard to manipulate the floss, use a floss holder or an interdental cleaner — such as a dental pick or stick designed to clean between the teeth.
Replacement teeth supported by dental implants function so well and last so long because, like natural teeth, they are securely anchored in the jawbone for maximum support. In order to benefit from this remarkable technology, however, you need to have enough tooth-supporting bone in your jaw to hold a dental implant in place. Unfortunately, after tooth loss, the surrounding bone almost always deteriorates — decreasing in width, height and density — and this process starts immediately. The longer a tooth has been missing, the more the bone that used to surround it resorbs (melts away). If you want a dental implant but don't have enough bone to support it, can anything be done? Yes. Very often you can still get the replacement tooth you want, thanks to routine bone grafting procedures.
How It Works
Bone grafting, normally a minor surgical procedure done in the dental office, is used to build up new bone in the area of your jaw that used to hold teeth. A small incision is made in your gum to expose the bone beneath it, and then grafting material is added. Most often, the grafting material is processed bone that serves as a scaffold, around which your body will actually deposit new bone cells. The grafting material will eventually be absorbed by your body and replaced by your own new bone.
The grafting material needed can come from a variety of sources. Sometimes it comes from your own body. Very often, however, it is bone from an animal or human donor that is processed by a laboratory to make it sterile and safe. Grafting material can even be synthetic. It comes in a variety of forms: powder, granules, putty or even a gel that can be injected through a syringe.
Types of Bone Grafts
There are a variety of sources of bone grafting material used for preserving or augmenting bone for dental implants. All of these bone grafting materials are backed by significant research. They are processed (except autografts, which do not need processing) so that they are safe to use, eliminating the potential for rejection or disease transmission.
Autograft: If you are already familiar with the concept of bone grafting, an autograft is probably what you're thinking of: taking bone from one site in your body and moving it to another. This is the only type of bone graft that involves creating two surgical sites: the one from which the bone is harvested and the one where it is deposited.
Allograft: This refers to laboratory-processed human bone from a deceased donor that comes from a tissue bank.
Xenograft: This bone grafting material comes from an animal — usually a cow.
Alloplast: This type of graft uses synthetic (man-made) materials.
What to Expect
The procedure for placing a bone graft usually requires only local anesthesia, though oral or IV sedatives can also be used to achieve a higher state of relaxation. Because a small incision in your gum tissue needs to be made to access the underlying bone that will receive the graft, you may experience some soreness in the area after the surgery; this can usually be managed by over-the-counter anti-inflammatory medication and/or pain relievers as well as ice therapy after the procedure. Though you will soon feel completely back to normal, it may take your body up to seven months for bone maturation to take place to receive your dental implant. The waiting time allows the healing process enough time to achieve the desired result: ideal support for replacement teeth that look great and will last a lifetime.
Related Articles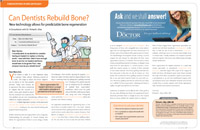 Can Dentists Rebuild Bone? Yes they can! It is very important to maintain bone volume following removal of a tooth so that dental implants remain a viable option for tooth replacement. This is easily accomplished with today's routine bone-grafting techniques... Read Article