Online Dental Education Library
Ones healthy smile depends on simple dental care habits, such as brushing and flossing. Please follow these steps to protect you and your loved ones oral health.
Brushing for proper oral health
Consider these brushing basics from the American Dental Association:
Brush your teeth at least twice a day. When you brush, don't rush. Take enough time to do a thorough job.
Use the proper equipment. Use a fluoride toothpaste and a soft-bristled toothbrush that fits your mouth comfortably. Consider using an electric or battery-operated toothbrush, especially if you have arthritis or other problems that make it difficult to brush effectively.
Practice good technique. Hold your toothbrush at a slight angle against your teeth and brush with short back-and-forth motions. Remember to brush the inside and chewing surfaces of your teeth, as well as your tongue. Avoid vigorous or harsh scrubbing, which can irritate your gums.
Keep your equipment clean. Always rinse your toothbrush with water after brushing. Store your toothbrush in an upright position, if possible, and allow it to air dry until using it again. Don't routinely cover toothbrushes or store them in closed containers, which can encourage the growth of bacteria.
Know when to replace your toothbrush. Invest in a new toothbrush or a replacement head for your electric or battery-operated toothbrush every three to four months — or sooner if the bristles become frayed.
Flossing for proper oral health
You can't reach the tight spaces between your teeth or under your gumline with a toothbrush. That's why daily flossing is important. When you floss:
Don't skimp. Break off about 18 inches (46 centimeters) of dental floss. Wind most of the floss around the middle finger on one hand, and the rest around the middle finger on the other hand — leaving about 1 inch (3 centimeters) to floss your first tooth.
Take it one tooth at a time. Use your thumbs and forefingers to gently pull the floss from the gumline to the top of the tooth to scrape off plaque. Rub the floss against all sides of the tooth. Unwind to fresh floss as you progress to the next tooth.
Keep it up. If you have trouble getting floss through your teeth, try the waxed variety. If it's hard to manipulate the floss, use a floss holder or an interdental cleaner — such as a dental pick or stick designed to clean between the teeth.
Antibiotics are widely prescribed to control bacterial infections. Sometimes they are given before a medical or dental procedure, to prevent a possible infection from occurring; this practice is called "antibiotic prophylaxis." In the recent past, physicians and dentists advised that people with certain medical conditions - including a number of heart problems and several types of bone or joint replacements - should always take antibiotics before many routine dental procedures. Today, their advice may be different.
A growing body of evidence now indicates that far fewer patients need to take this preventive step than was previously thought. As a result, the guidelines for prescribing antibiotic prophylaxis have recently changed - and they may do so again in the future. Why are the recommendations changing - and what do you need to know about taking antibiotics before coming to the dental office?
The Risk of Infection
We all know that bacteria - both helpful and harmful types - thrive in many parts of the body, including the mouth. Whenever circumstances make it possible for these microorganisms to enter the bloodstream, there's a slight risk that a bacterial infection may develop. This could occur in many dental procedures - and it could also occur during routine activities like chewing, brushing and flossing. In most cases, the risk is so small that the chance of a having bad reaction to antibiotics (while rare) is far greater than the chance of developing an infection; therefore, antibiotics aren't routinely used.
Some people, however, need to take extra precautions before having dental procedures. If you have been treated for some types of heart disease, or have had certain orthopedic procedures (including total joint replacement), we may advise taking antibiotics to protect against even a remote chance of infection. Recommendations are made on an individual basis, taking into account your medical history and a clinician's healthcare experience.
Guidelines for Antibiotic Premedication
Prophylactic antibiotics might be recommended before dental procedures if you have one or more of the following heart conditions:
A heart transplant
Artificial heart valves
A history of infective endocarditis
Some types of congenital heart problems - particularly if they haven't been completely repaired, or if their treatment involves prosthetic material
If you have undergone a joint replacement procedure, prophylactic antibiotics might be recommended if you also have one or more of the following risk factors:
A systemic inflammatory disease such as rheumatoid arthritis or lupus erythematosis
A weakened immune system resulting from HIV, cancer, radiation or chemotherapy, or another cause
Insulin-dependent (type I) diabetes or hemophilia
A history of previous infection in a prosthetic joint
Undernourishment or malnourishment
There are other circumstances where taking prophylactic antibiotics would be a prudent step; there are also a number of situations where these medications might have been recommended in the past, but aren't currently required in all cases. For example, the presence of a benign heart murmur, a pacemaker or defibrillator, and certain heart diseases or congenital defects don't automatically mean that antibiotic prophylaxis will be needed.
In recent years, reports of drug-resistant bacteria and harmful side effects from some medications have increased public awareness of the consequences of overusing antibiotics. Fortunately, new scientific research is helping healthcare professionals make better, evidence-based treatment decisions on antibiotic use. If you have questions about whether you should take antibiotics before dental procedure, don't hesitate to ask.
Related Articles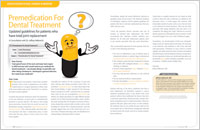 Premedication for Dental Treatment If you have had a total joint replacement in the past, you may be advised to take antibiotics before have dental work. That's because certain preexisting health conditions may make you more susceptible to infection during a dental procedure. Find out what the risk factors are... Read Article